August 28, 2014 07:55 PM Posted by juliannadouglas
A little over a month ago, after completing my run-down of the 2014 Romance Novel Convention, I promised my readers some more RNCon themed fun. Well, I've brought you interviews with RNCasanova Kaden James and Mr. Casanova 2014 Weston Bouchér. If you haven't read the interviews yet, be sure to check them out. Both these guys are totally awesome, wonderful people who, IMHO, definitely deserve lots love and attention from my fellow romance readers and writers.:-) Now I'm bringing you a huge RNCon prize package giveaway.
Here's what the winner will receive:
RNCon 2014 Swag Bag signed by over 50 romance authors, including NYT bestsellers Sharon Hamilton, Angela Knight, and H. P. Mallory, as well as Kaden, Weston, and our host and #1 romance novel cover model, Jimmy Thomas.

Exclusive pink camo t-shirt (size L) from Sharon Hamilton's Military Mash Costume Ball.

Jimmy Thomas romance novel cover model calendar (2011). The calendar may be outdated, but it's contains lots of drool-worthy photos of this gorgeous guy.

Sample issue of InD'Tale Magazine.

Tons of collectible bookmarks, postcards, and trading cards, some of which have been signed by the authors.

Magnets, pens, keychains, can cozies, lip balm, buttons, and lots, lots more goodies.

I'm also including a bunch of extra swag I had leftover from the 2013 RNCon.

PLUS A print copy of my book, His Heart's Desire signed by both yours truly and my amazing cover model, Jimmy Thomas.
Whew! That's a lot of stuff and it's all going to one lucky winner. Use the Rafflecopter widget below to enter for you chance to win. Good luck!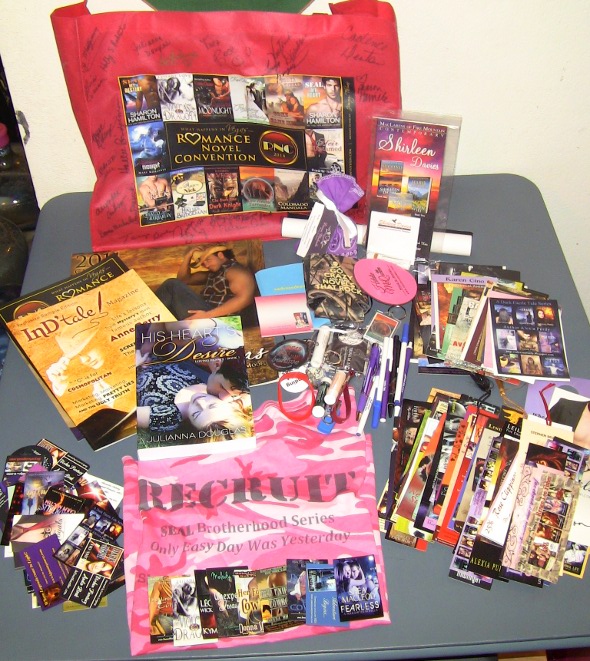 Categories: Giveaways
Tags: His Heart's Desire, Jimmy Thomas, Kaden James, Romance Novel Convention, Weston Boucher
---