July 30, 2014 05:18 PM Posted by juliannadouglas
I had the privilege of meeting today's Hump Day Hunk at the Romance Novel Convention a couple of weeks ago, where he was one of the RNCasanovas. I only had the opportunity to talk with him for a few minutes, but in that brief amount of time, he struck me a sweet, kind, generous and truly gentle soul who is very genuine and humble about his good looks and amazing talents. He's done quite a bit of modeling, including being on the covers of two books already, with hopefully many more to come, but his true passion is music. He's a gifted singer and songwriter who has been writing and performing his own music since he was only twelve. He's been an MTV featured artist, his song "A Boy Like Me" is the theme song for the TV show, "The A-List: New York," and his music has been heard on several other TV shows too. He's currently an indie music artist who is seeking a record label to represent him so that he can realize his dream of going on tour. When he isn't busy modeling and playing music, he's also writing a book series. This guy is truly multi-talented, full of ideas, and seems to have the positive attitude and drive to make things happen. So, without further ado, here's today's Hump Day Hunk, Kaden James, known to his music fans as merely KADEN. Kaden generously agreed to an interview with me, so enjoy!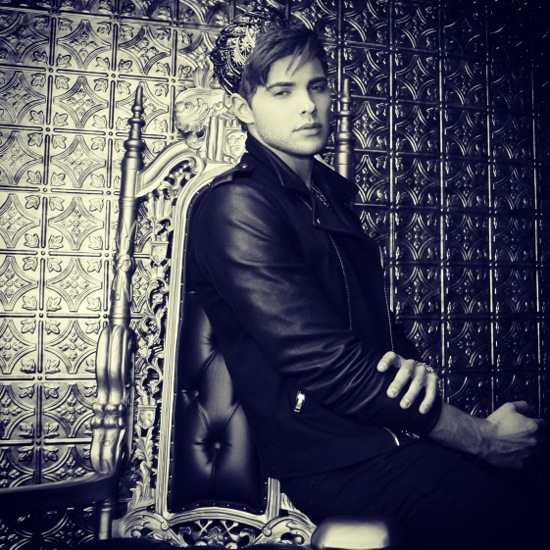 For me, beauty is more than skin deep, so I'm the kind of girl who likes to know something about the man behind the handsome face and fit body. Let's start with you giving me five to ten words that best describe your personality.
Thank you for taking the time to get to know me. Well, I'd say adventurous, imaginative, loyal, hard working and loving... You'll have to get to know me to find out the rest haha.
What was your favorite part of being at RNCon?
Meeting passionate authors and readers. I myself have been in the process of writing my first novel and it has been the most rewarding and challenging thing I've ever done. It has given me so much respect for authors.
If you could trade places with a romance novel hero for a day, what kind of character would you like to play? (e.g. vampire, werewolf, Regency gentleman, Special Ops/Military, etc. - Just let your imagination run wild.:-))

I'd love to be a time traveler and spend my time flying through time and becoming a robin hood of sorts. I would basically be in the right place at the right time to capitalize on things like the internet explosion and then blow all the money on the good people of the world.

What is your idea of the perfect romantic evening?

Having a romantic dinner for two somewhere outdoors, some wine followed by some good conversation in a hot tub... With even more wine.
Modeling is one form of artistic expression for you, but you told me that your true passion is music (you're very talented BTW). Can you trace that passion to one specific moment in time when you just knew you had to be a musician?

Thank you and great question. I have always had an easier time putting my feelings into music and words on paper than anything else. The moment I knew music was for me was when I sang publicly for first time in a school talent show and received a standing ovation. I felt seen and heard in that moment and like I could really connect with people through my words.

For you, what is the most exciting thing about writing and playing music?
I love the thrill of both performing and writing. They are completely different, one is very intimate and personal and then the transition to sharing it with people is exhilarating and makes me feel a deep connection with the people who feel it.

I understand that you're writing your own book series too. Can you tell us a little about the story and what inspired you to write it?

I'm writing a YA SciFi/Fantasy series called "Flawed". The story struck me like lightning while sitting along the beach in Malibu. It has now become one of my greatest projects, even at times taking me away from music which I never thought anything would. I believe this story was a gift, there was such a magic to the way that it came to me and I feel a heavy responsibility to see it through. I hope that you read it once it's released.
Any idea when we bookworms might be able to get a copy of our own to read?
I am in the editing process right now and because this is my first book I'm not quite sure how long this process will take. I do have a facebook page and will keep everyone informed on it- www.facebook.com/Kaden (I really wasn't trying to plug my fb-haha)
You're a multi-talented guy who's done so many different things in your life. Is there one accomplishment that stands out as having given you the greatest sense of satisfaction?
Yes. The first time I saw my music video air on MTV. As a child I had always dreamed of being on that network and they don't play very many videos anymore so I wasn't sure that would ever happen but when it did, it was overwhelming and I was so thankful.
I know that you're a very charitable person who believes in giving back to the community (me too;-)). Are there any particular causes that are near and dear to your heart?

Thank you! I try to do little things for the people I know or friends of friends who are going through hard times. There's a lot of people hurting in the world and sometimes just staring into someones eyes and telling them "I'm here for you" and then doing something nice for them is the greatest gift. I also like to do random act of kindness too.. I'm not yet wealthy enough to have my own foundation so I donate time and follow my heart to help those around me.
This question is inspired by The Players Club, a favorite romance series of mine: If you knew you had only one month to live and had virtually unlimited resources, what three things would you want to do?
Well if it were truly unlimited resources... Wow wouldn't that be nice! Well the first thing I would do is create a string of companies that were worker owned so that every employee would reap the rewards of their hard work and not just the big corporate ceos or shareholders who weren't even connected to the company.
Second, I would buy land and pay the best contractors to build tall buildings and sell them to people at cost. Land is almost always the most expensive part of real estate, so every floor we put into the plans would bring the cost down on the housing.
The third thing I would do is take care of all of our veterans, the mentally ill and homeless. There are plenty of resources in this country to ensure that every man, woman and child has a home.
If you didn't have to concern yourself with mundane day to day stuff like earning a living and could do anything at all, what would you be doing?

I would be doing the same thing I'm doing right now and even more of it! I love what I do, writing, creating products, businesses, making music and giving back.

So what's next for you? Any projects in the works that we can watch for in the next six months to a year?

There are quite a few things in the works. I have several singles coming out, the next one is called Turn U On : it's a feel good, sexy song. I'm also launching a line of candles that are all natural and can be used for mediation, filling a room with amazing scents and for massages because the wax has a low melt point. The line is called Burning Desire Candles and there will be many more exciting things to come.
Since books are my favorite things in the world, I can never end an interview without asking: What is your favorite book and why (and it can't be your own;-))?
I really love The Game of Life and How to Play It by Florence Scovel Shinn. It's a very great read full of great life lessons.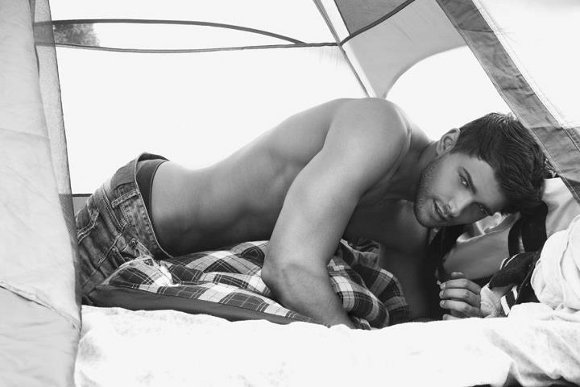 Thank you for taking the time to do this interview, Kaden. It's been a delight having you. Good luck with all your projects. I wish you all the best!:-)
Thank you very much as well! I hope you will add me on facebook, twitter, youtube, reverbnation and instagram all are www._______.com/KADEN
All the best,
Kaden
Connect with Kaden via Social Media

Buy Kaden's Music
Photos Courtesy: Gerry Garcia
Book Covers Courtesy: Chad Michael Ward
Categories: Hump Day Hunks, Interviews
---