June 14, 2017 03:49 PM Posted by juliannadouglas
On day two of Phoenix Comicon, we didn't have any scheduled events we wanted to attend until mid-afternoon, so we didn't head over to the convention center until around 11 am. All I can say is that it was a good thing we didn't have anything planned right away, because it took us about forty-five minutes just to get in the door. Because of the gunman situation the day before (you can read all about that in my Day 1 post), security measures for checking bags and wanding people had been hastily implemented, so the line was moving at a snail's pace. Eventually we got inside, though, and we immediately went downstairs to see if Sherrilyn Kenyon was indeed in her booth like she said she would be. As luck would have it, she was, so I got my copy of Acheron, my favorite of her books, signed. After that we stopped by the Con Man booth again to get P. J. Haarsma to sign our DVD copy of the show. Then we started going up and down all the rows upon rows of cool stuff for sale, scoping out the things that caught our fancy, so we could come back later to purchase them. Turned out that wasn't such a great idea, but I'll get to the reasons for that later in my Day 3 post. Before heading back upstairs, I stopped by the big author's booth again and was very excited to find Jim Butcher, another of my favorite authors, there. I fan-girled a little, got him to sign a few of my books, and got a photo with him, all of which made me a very happy camper. Authors are my rock stars, ya know.:-)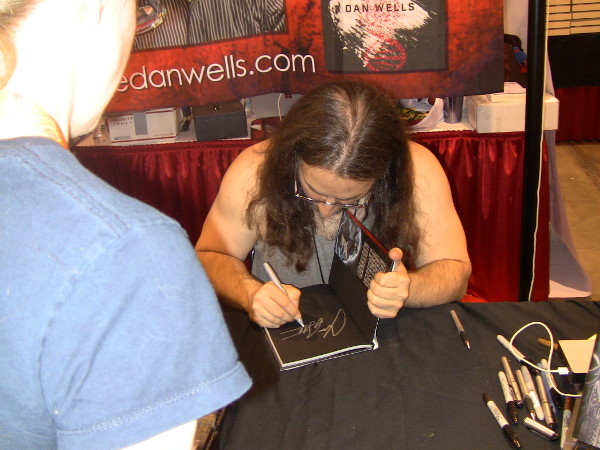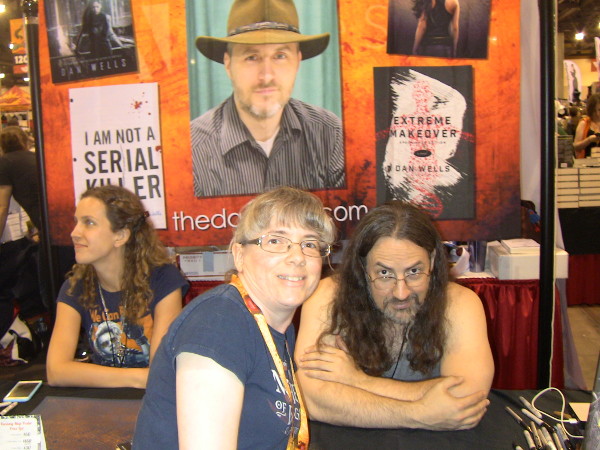 Fun Fact: The young lady to the left was an extra in Con Man.
Sometime between 1 and 2 pm, we decided to get some food before our first panel began at 3 pm. Here's where we learned lessons number two, three, and four: Don't go to the food court at peak times of the day. Don't get separated from one another in the crowd. And oh yeah, guess what, sucker, your cellphone won't work inside this building. Ugh! Yep, you guessed it, after waiting in a fairly long line to get food, and losing each other in the crowd, not once but twice, I had oh so much fun balancing food in one hand while dragging my wheeled bag in the other and trying to call or text my husband to no avail. Somehow he eventually got through to me, and then lesson five kicked in: Make sure you give others in your party correct directions. He told me he was next to the Italian place, but because our stress level was high and we were getting a big testy with each other at that point, I signed off too quickly. After making my way back through the crowd, I soon discovered there were three seating areas next to the Italian place, and my husband wasn't in any of them. Eek! Luckily he eventually came looking for me, hoping all the while that no one would steal the table he'd found for us (thankfully they didn't). It turned out he was actually by the Burger place right across from where I'd been when he called me. [face palm] Needless to say, by then, our frozen yogurt was now chocolate milk. Then to add insult to injury, our kids, who are legal adults, mind you, but just barely, called fighting over who was doing the dishes. Sheesh! Now I understand why psychologists say that the human brain technically doesn't reach adulthood until around the age of twenty-five. At least I can look back on it all now and laugh.:-)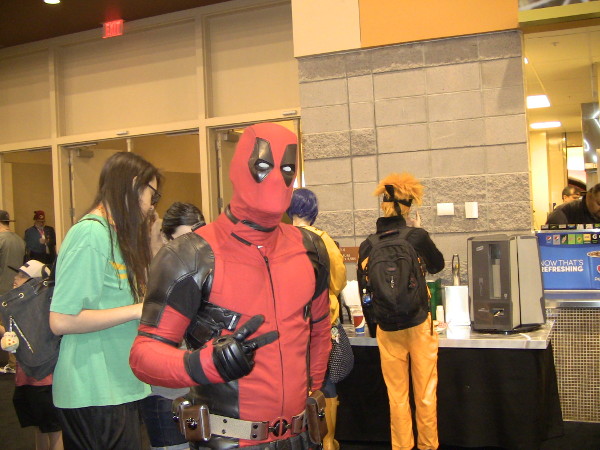 Deadpool and Harley Quinn were definitely two of the most popular costumes at the Con. I kept spotting Deadpools and my husband kept spotting Harleys. We didn't count to see who found the most of each, but we did have a little Deadpool/Harley Quinn back and forth going.:-)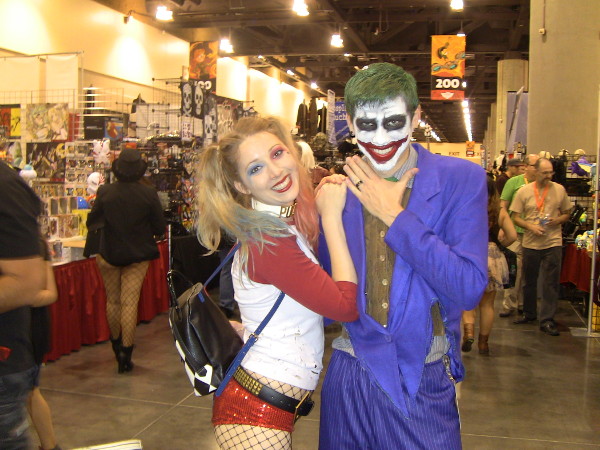 I'm happy to report that after the frustrating experience that lunchtime was, things went much smoother for the remainder of the day. We successfully made it to our first panel, Fight the Power: Literature As Political Commentary, which was a fascinating discussion. Five authors and a representative for a local indie bookseller talked about many of the hot-button topics of the day and how literature can speak to and highlight those issues. After that, we went back to window shopping until our next panel, The Mind Is a Terrible Thing to Waste: The Science of Get Out and Dollhouse. We've never seen Get Out, but we're big fans of Dollhouse. The panelists, who were from various scientific backgrounds, discussed whether the scenarios behind these two shows are in any way feasible in the real world. The short answer, of course, was no, but it was a pretty enlightening discussion nonetheless. Then after a nice, quiet dinner at a little café in the Arizona Center, we called a wrap on Day 2.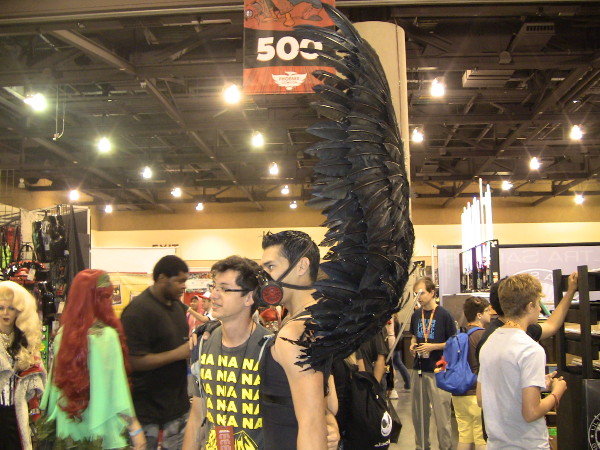 I'm not sure who this guy was dressed as, but those wings are super cool.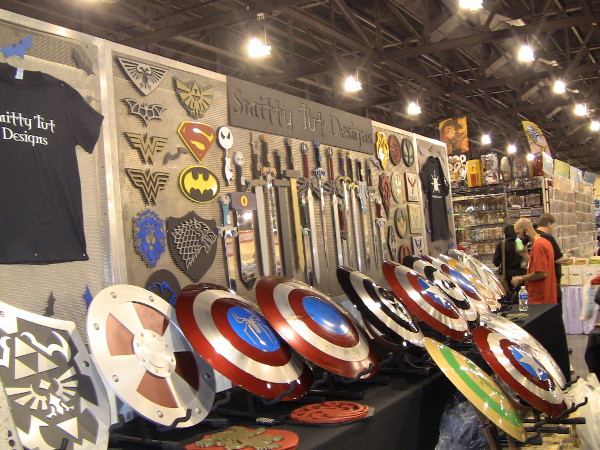 These swords and shields are awesome. I'm sure they cost an arm and a leg (I didn't ask), but I sooo want the Captain America shield.
Categories: Events, Slices of Life
Tags: Con Man, Dollhouse, Jim Butcher, P. J. Haarsma, Phoenix Comicon, Sherrilyn Kenyon
---