June 10, 2017 07:05 PM Posted by juliannadouglas
To celebrate our 23rd anniversary, my husband and I attended Phoenix Comicon for the first time. Even though we're local, we decided to stay in a hotel two blocks from the Phoenix Convention Center where it's held, rather than making the thirty-five mile round-trip drive back and forth every day. That also made it feel more like a real vacation. I'm not sure why it took two geeks like us so long to give this a try, but… there you have it.:-) Better late than never, I always say. Since it was out first Con, things didn't always go entirely as planned, but we learned a few things along the way that will help if we go back again, which I'm sure we will.
For starters, I learned don't check into you hotel right at the 3:00 PM check-in time if possible, because everyone else is doing it then, too. The hotel's self-park area was already full, so the hubs had to drop me off and then park the car a few blocks over in another garage. We also ended up waiting in a line of cars that went pretty far down the block, just to get into the area where you drop off your bags. I think it ended up taking over an hour to get checked in. So… we ended up missing the very first panel we wanted to attend, but oh well… At least we got our badges and programs and were able to get the lay of the land. I used to work at the Convention Center many moons ago, not long after I moved to the Phoenix area, when I was only eighteen years old. I hadn't been down there in a very long time, and I discovered that they must have razed the old convention center, because this new one looks nothing like the one I worked in. The old one stretched an entire city block, but was only one story. This new one is three stories above ground, plus a sub-level, so we got four entire floors of geeky goodness to explore.
We spent a good couple of hours doing just that, figuring out where all the meeting rooms were located and how to get back and forth between the sections of the convention center that are on opposite side of the street, while looking through some of the exhibits and vendor booths. On the third floor, we got to see some very impressive Lego displays,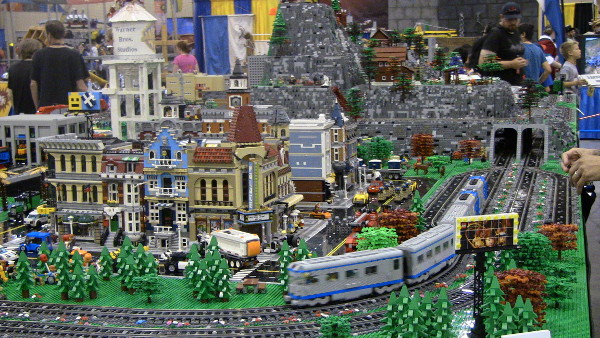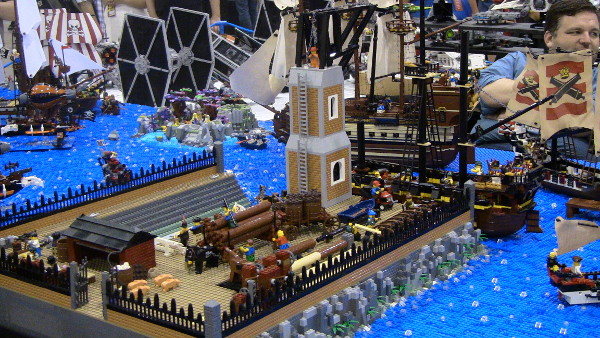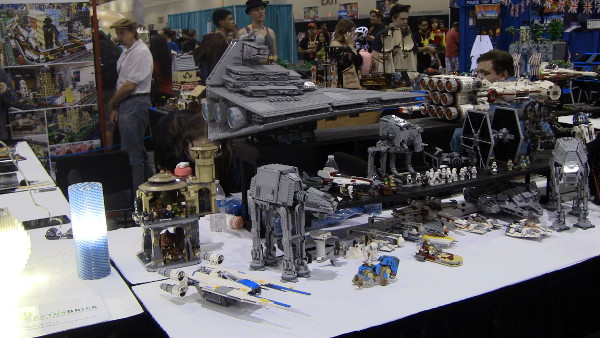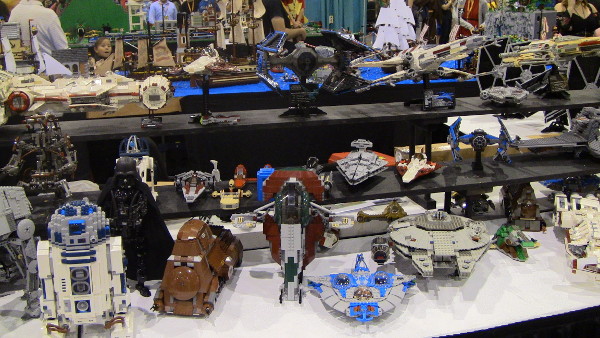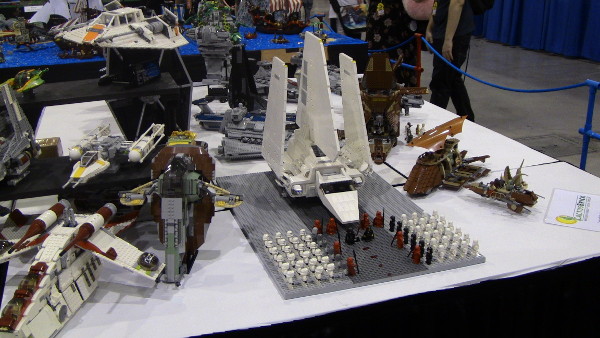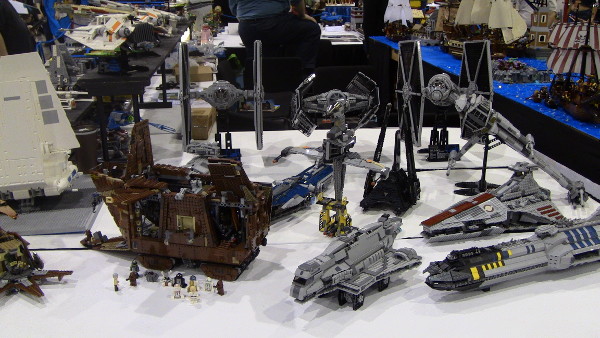 a replica of Mos Eisley space port complete with stormtroopers,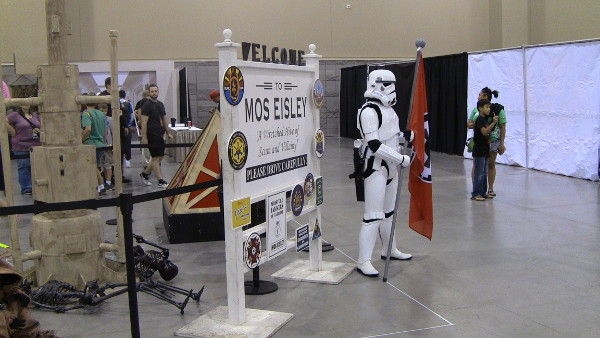 Han Solo in carbonite,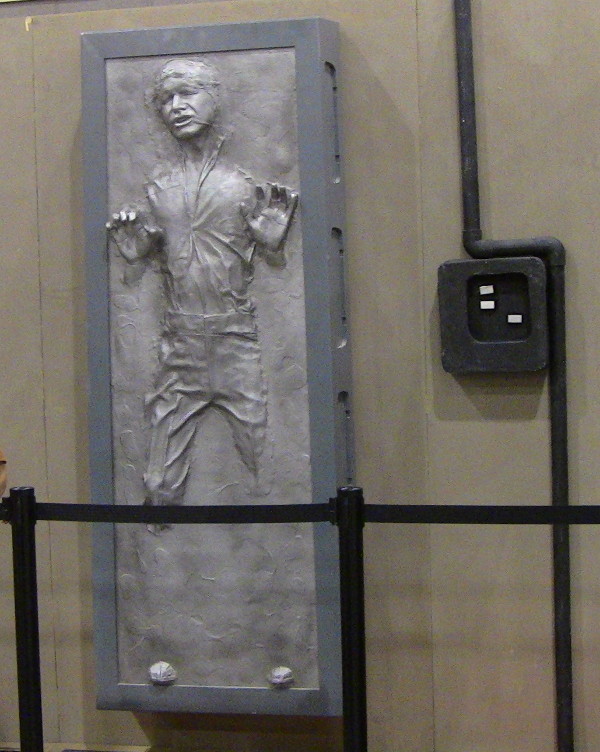 and BB-8 (yeah, I know he technically wasn't at Mos Eisley, but whatevs:-)),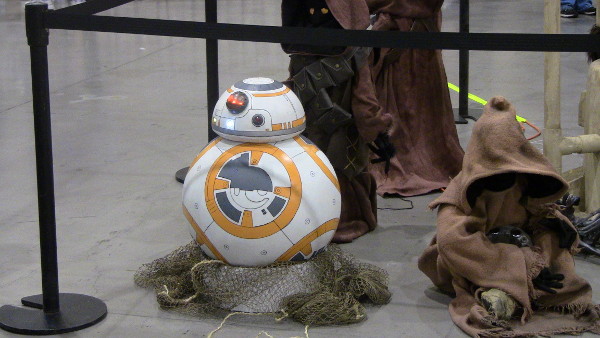 as well as lots of cool merchandise. Then we went down to the basement level to check out the exhibit hall there. Low and behold, from outside the doors, we saw huge banners announcing Sherrilyn Kenyon and Jim Butcher, two of my favorite authors I was hoping to meet, so we went inside to check it out. As I was making my way around the large rectangle of display tables that showcased several other authors as well, I was stopped by one of them asking about what I liked to read. When I told him we'd come in because of the big banners and that I was a fan of both Sherrilyn and Jim, he then asked if I'd met Sherrilyn. When I told him I hadn't, he said she was right on the other side of the table. I excitedly made my way around there and found her. We chatted for a couple minutes and I got a photo with her,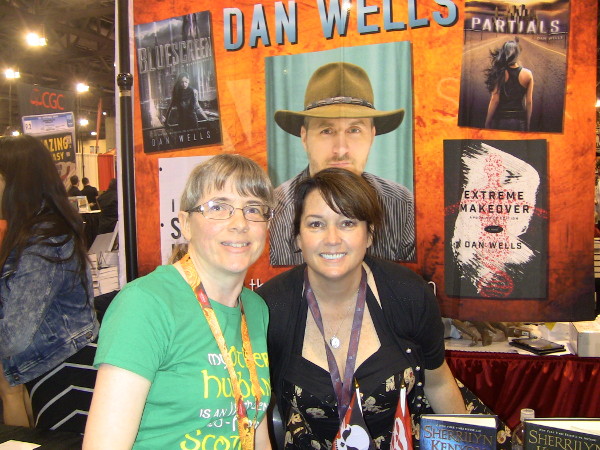 but I'd left the book I wanted her to sign in my hotel room, thinking I wouldn't see her until her official signing time. I was very stoked to find out that she was going to be in that booth all weekend, and told her I'd be back the next day.
Right across from Sherrilyn's table was the Con Man booth. For anyone who doesn't know (and that's undoubtedly a lot of people:-)), Con Man is an original comedy web series created by Alan Tudyk. It's loosely based on his experiences attending the various Comicons. His character Wray Nerely starred in a canceled sci-fi series called Spectrum that gained a cult following (much like his real-life experience on Firefly). Now Wray is struggling to find a new job in Hollywood, while working with Jack Moore, played by Nathan Fillion (his former co-star on both Firefly and the fictional Spectrum) on a possible Spectrum movie, while making the rounds of the Cons. Anyway, the first season of the show was entirely funded by the fans via Indiegogo. My hubby was one of the original donors, so he was super excited to find them, especially when he recognized P. J. Haarsma, one of the producers of the show, who also happens to be a sci-fi author. Needless to say, he spent some time talking with P. J., and I got a picture of them together. My husband was even wearing his Con Man t-shirt, which gave it the perfect touch.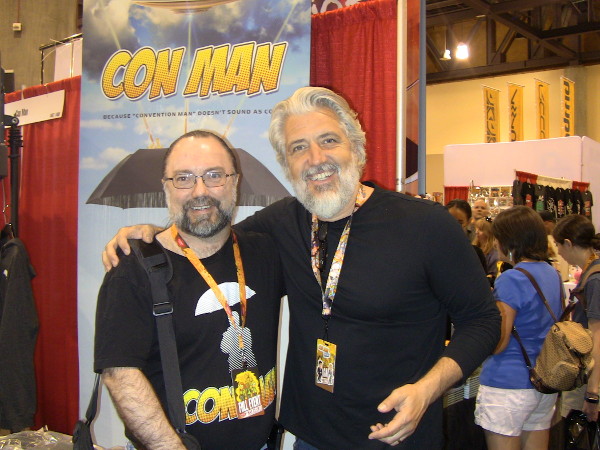 After that, we happened across a photographer for the local CW TV station, who was taking free official Phoenix Comicon photos. We had our picture snapped and then went up to the street level to collect it from their booth outside.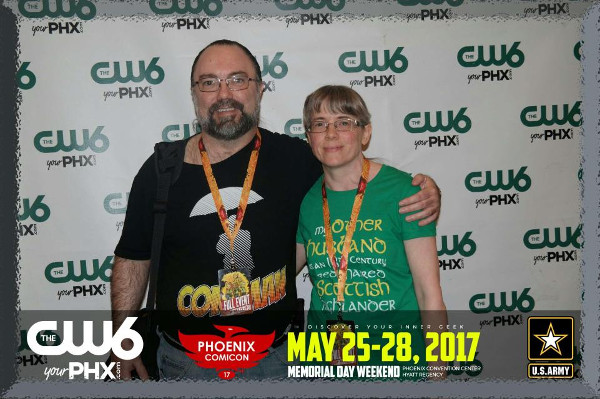 While we were in that area, we also checked out all the cool fan-created vehicles inspired by TV shows and movies such as Knight Rider,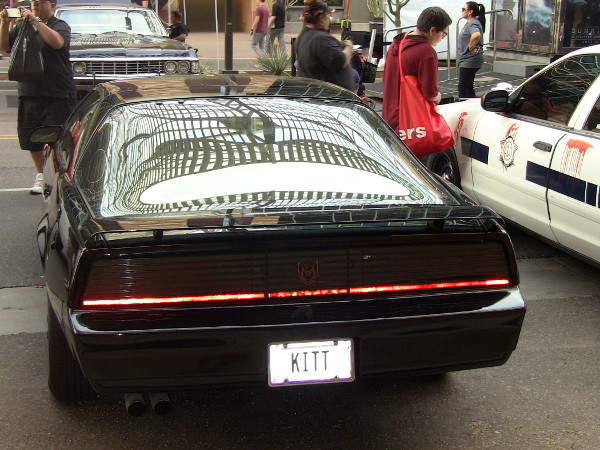 Cars,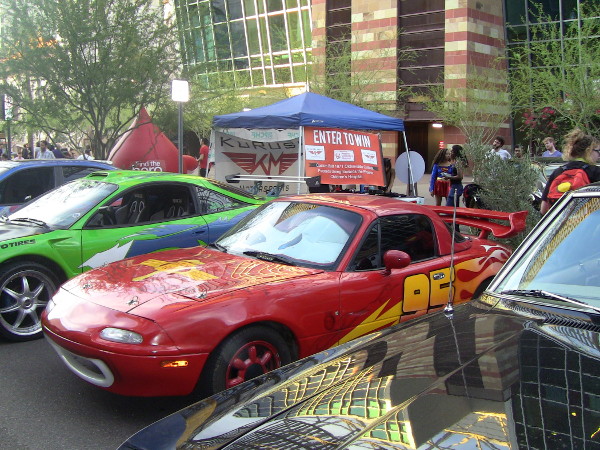 Ghost Busters,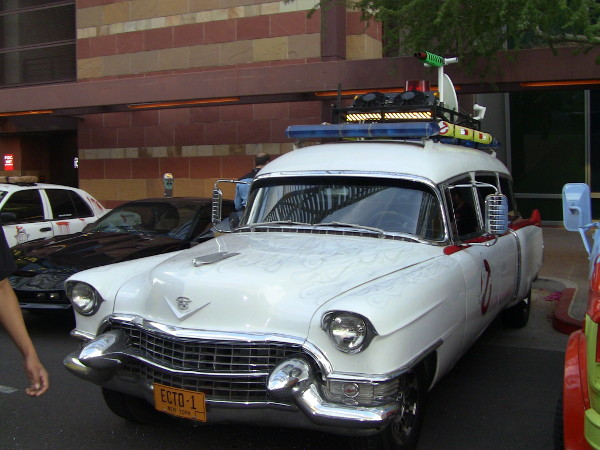 Marvel's Agents of S.H.I.E.L.D.,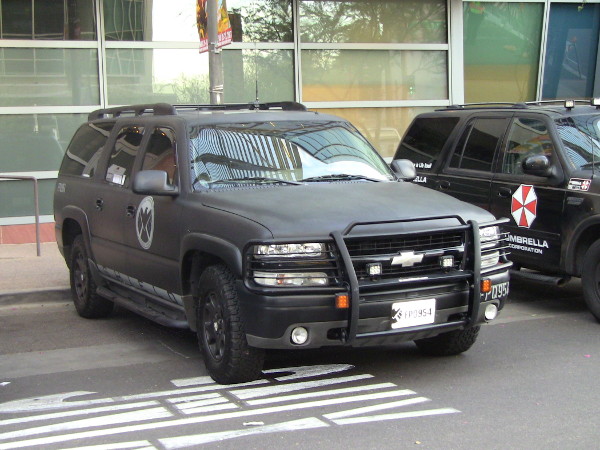 Resident Evil,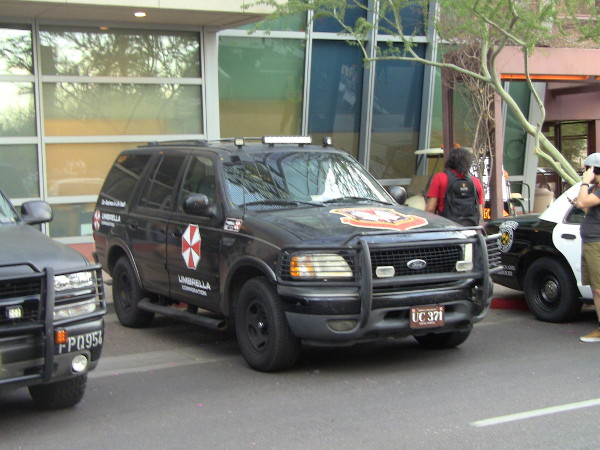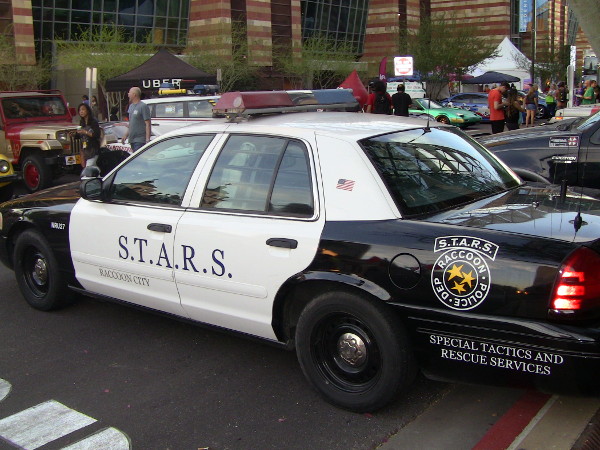 and many others. Then we went to dinner at a pizza parlor in the Arizona Center across the street from the hotel. The food was a bit greasy, but surprisingly tasty. It's too bad they were going out of business right after the Con, so if we go back next year, they won't be there.:-(
Back in our hotel that night, while we were planning out activities for the next day, I saw on the Comicon website that prop weapons were no longer being allowed (a huge disappointment to my hubby since his costume has a prop gun). The announcement simply stated, "in light of recent events," so we thought perhaps it was in response to the Manchester bombing, although we'd seen plenty of Con goers carrying weapons that day, so it didn't make much sense. It wasn't until the next morning, when our daughter texted us that we learned a heavily armed gunman had been arrested there the previous day. We didn't find out all the details until returning home, which was probably for the best. Otherwise, I might have been nervous wreck. As it happens, the man entered the convention center a few hours before we arrived, where he proceeded to take photos of police officers and Con attendees, which he then sent, along with threatening messages to musician Rayko Dig, a woman whom he had met only once, but had been in contact with over social media. She took the threats seriously and called a police officer she knew in California where she lives. That officer did a little detective work of his own before contacting the Phoenix PD. Thanks to all of their quick work in figuring out the gunman's location, he was apprehended without incident. Based on police and news reports, I feel pretty confident in saying that the man was clearly mentally unstable. He actually believed himself to be the Punisher, and for whatever reason, was there to kill Jason David Frank (aka the original Green Power Ranger). I have to admit that it was more than a little unnerving realizing that the area where the man was arrested was the very first area my husband and I visited after getting registered. It sends shivers down my spine just thinking about it, and not the good kind. This incident very well could have escalated into another horrific news story, but thanks to Rayko and all the police officers, we and everyone else were able to enjoy a safe weekend at the Con, while this was little more than a blip on anyone else's radar, if it even registered at all. But it was enough to make me realize that the bad things we hear about on the news could happen to any of us at any time, and it makes me very grateful to be alive and well.
Categories: Events, Slices of Life
Tags: Alan Tudyk, Con Man, Firefly, P. J. Haarsma, Phoenix Comicon, Rayko Dig, Sherrilyn Kenyon
---