September 10, 2016 02:29 PM Posted by juliannadouglas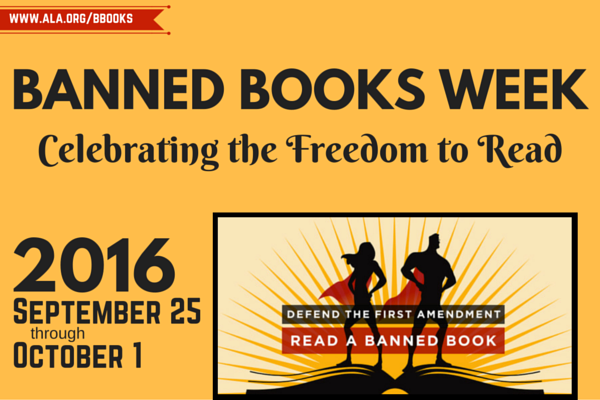 Since 1982, the American Library Association's Office for Intellectual Freedom has been sponsoring the annual celebration of Banned Books Week during the last week of September. This year it will run from September 25 – October 1. As the ALA's website states Banned Books Week "celebrates the freedom to read" and "highlights the value of free and open access to information."
---
September 9, 2016 07:31 PM Posted by juliannadouglas
August was an excellent reading month for me, mostly consisting of five-star reads, but one stood out a little above all the others. It's the second installment of a new family saga from an insanely popular author that's filled with drama, angst, mystery and yes, romance. It's all about the incredibly dysfunctional Baldwine family trying to pick up the pieces in the aftermath of the family patriarch's presumed suicide that soon starts looking like murder instead. It's also about all of the dirty deeds in which he engaged prior to his death that have ripped the family to shreds and nearly destroyed their bourbon-making business that's been the family's legacy for centuries, and how the members of the family must start pulling together to survive the fall-out. I'm totally hooked by this series and can't wait to read more.
Categories: Book of the Month, Giveaways
Tags: J. R. Ward
---
September 8, 2016 03:11 PM Posted by juliannadouglas
Last month I brought my readers a swag bag giveaway from this year's Romance Novel Convention. If you didn't win that one, as promised in my newsletter, here's your chance to try again.
The lucky winner will receive this great RNCon prize package:
RNCon 2013 Swag Bag – This one isn't signed, but it does have fifteen lovely full-color romance novel covers along with the RNCon logo on both sides. Each side is unique, depicting different covers.

Jimmy Thomas Romance Novel Cover Model calendar – The calendar itself is outdated, but it still contains a dozen gorgeous cover photos that are yummy to look at.:-)

Lots of collectible bookmarks, postcards, rack cards, trading cards and more, a couple of which have been signed by the authors.

Magnets, pens, notepads, a coaster, health & beauty products, candies, buttons, a bracelet, dog tag, and lots, lots more goodies.

PLUS A signed print copy of your choice of one of my books, either His Heart's Desire or Heart of the Season with matching swag.
Categories: Giveaways
Tags: Romance Novel Convention
---