September 10, 2016 02:29 PM Posted by juliannadouglas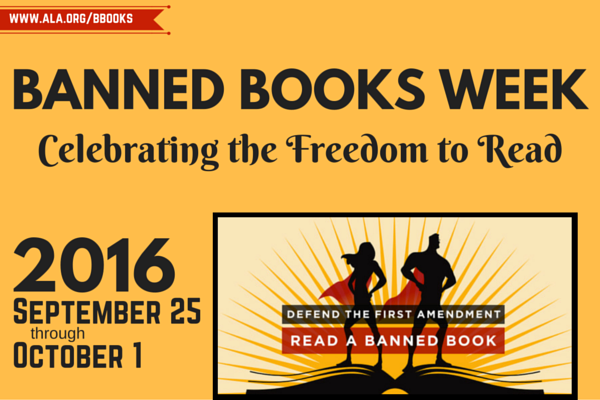 Since 1982, the American Library Association's Office for Intellectual Freedom has been sponsoring the annual celebration of Banned Books Week during the last week of September. This year it will run from September 25 – October 1. As the ALA's website states Banned Books Week "celebrates the freedom to read" and "highlights the value of free and open access to information."
In recent years, critics have arisen, questioning the need for such a celebration when most of the books on the ALA's Most Banned/Challenged Books list have merely been challenged, while the outright banning of books in America is now a relatively rare occurrence. Statistically that may be true, but the challenging of books can be the beginning of a very slippery slope that could eventually lead to censorship if left unchecked. Yes, we here in America enjoy many freedoms thanks to our Constitution, but one only has to look at other countries where censorship is still alive and well, to know that could be us if we aren't vigilant. And the gatekeepers who are the most vigilant about keeping books available to the public are the librarians. As Maddie Crum stated in her article for Huffington Post, "This Is Why You Should Celebrate Banned Books Week": "[Banned Books Week is] to remind readers that information hasn't always been free, and that we have librarians to thank for its freedom." They work hard to ensure that these challenges don't turn into bans, and so if nothing else, we should be celebrating their achievment.
| | |
| --- | --- |
| | While being interviewed for "CBS This Morning: Saturday," Susan Kuklin, author of Beyond Magenta, which was among the top 10 most challenged books of 2015, said, "I think what we're learning is the country is more frightened than we thought it was. We're afraid of going forward. Life is changing, science is making changes, politics are changing -- everything's changing. And we can either choose to grow as human beings or stay the same." |
I choose to grow, and one of the ways in which we can grow is through choosing to read books and information that may challenge our world view. For that reason, I believe that maintaining open access to such information is vital to our progress as a society. And that is why I'm supporting and celebrating Banned Books Week.
This post is going up early so I can include it in my monthly email newsletter, but check my Facebook and other social media feeds during Banned Books Week for some fun conversation starters.
Now as part of my celebration I'm going to highlight and give away one of my favorite banned/challenged books, the Harry Potter series. It came in at #1 on the ALA's Most Banned/Challenged Books list for the first decade of the 2000s. These books haven't just been challenged, they have also been heavily restricted in some school libraries, as well as outright banned from other school libraries and curricula. There are also a number of documented cases of the books being publicly burned or otherwise destroyed.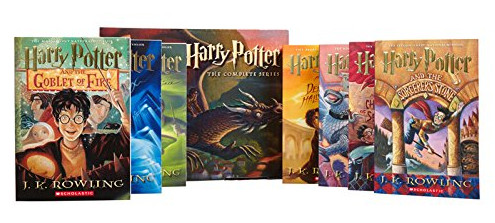 While I'm sure there are many and varied reasons for the challenges to these books, there seem to be three primary objections that come up over and over:
1. Magical themes that can lead young minds into the occult or Satanism – The sarcastic side of me simply rolls my eyes and says, "It's fantasy, people, get over it." However, the intellectual side of me realizes that isn't going to convince anyone, not that much anything I say probably would, but… The majority of these objections are coming from conservative Christians, so here's my take, as a Christian, on the books and this complaint in particular: First, my kids read the books and they certainly didn't go running out wanting to get involved in witchcraft or Satanism, and that's because they fully understand the difference between fiction and real life. I believe that if you bring up a child with certain values, they will tend to view any story they read through the lens of those values. That's why when I read the Harry Potter stories, I see many parallels between my faith and the stories, through Harry's self-sacrificial nature, and there are many Christians coming forward in more recent years who tend to agree with me. Whether or not these stories were written as Christian allegory is up for debate, but IMHO, they certainly don't present a danger to young minds in this regard.
2. The behavior of the characters can set a bad example: Yes, Harry and his friends sometimes lie, break rules, or disobey authority figures, but what kid doesn't at times. Literature is chock full of rule-breaking characters, and I think it's also part of the human experience. It's all part of testing the waters, learning, and growing up, and as long as it doesn't get out of hand, it normal and natural for kids to occasionally misbehave. What the detractors who make this objection fail to take into consideration is that oftentimes Harry and company do these things for a good reason. And quite frankly there are times when flouting authority can be an admirable thing (civil disobedience, anyone?), especially when those in power aren't ruling justly. St. Augustine said, "An unjust law is no law at all," and in some cases it could be argued that Harry and his friends were simply fighting for justice in the midst of the Dark Lord's corruption. IMHO their overall behavior was far more commendable than questionable, and again, my kids didn't suddenly get it into their heads to start disobeying their parents more just because they thought they could get away with it after reading these books.
3. Frightening scenes, death, and violence: Yes, there are some scenes that include these elements and parts of the books, especially the later ones in the series have some darker moments. Some characters that readers will come to love do tragically die as well. However, the author doesn't usually linger over these moments for long and they aren't nearly as graphic as they could have been. I'm sure this is in deference to the books' younger audience. I personally think that being able to process things like death, through the safe lens of a story can be immensely helpful to many children in understanding that these concepts are a normal and natural part of life. I recall reading a few stories as a child that included death or scarier content, and even though I was an extremely sensitive child, it didn't stop me from loving the books and often coming back for more. I also believe that without the stakes being as high as they were, it would have been much more difficult to understand the necessary sacrifices that had to be made or to comprehend the pure evil and menace of Voldemort.
The bottom line here is that I personally only recommended these books for middle grade children and up, and if younger children want to read them, their parents should know the child's sensitivity level and determine whether they can handle the material before allowing them to read the books. I have no problem with parents making these decision for their own kids, just so long as they aren't trying to make them for others. That's when they've crossed a line, IMHO.
If any of the series' objectors would go into reading the books with an honest and open heart and mind, I think they'd find that any potentially objectionable content is far outweighed by the positive messages the stories convey regarding love, acceptance, loyalty, friendship, bravery, self-sacrifice, and standing up for what's right in the face of extraordinary evil. There is also a much more subtle cautionary message about the active seeking of power making one more corruptible. I also loved J. K. Rowling's jab at censorship in Book #5 when the Ministry of Magic was trying to control the flow of information. Additionally these books are chock full of inspiring and insightful quotes. These and many other reasons are why the entire Harry Potter series is on my keeper shelf.
So, there you have it. That's my two cents on these wonderful tales that I'm sure will someday take their place among the classics of literature. If you'd like to read more of my thoughts on the books, you can check out my full reviews on The Hope Chest Reviews below. I personally think it would be a travesty to ban, censor, or otherwise keep these powerful, thought-provoking, and just plain fun stories away from our youngsters, and in fact, would encourage everyone, middle grade and up, to read the series at least once. That's why I've decided to give away the entire boxed set of the Harry Potter series. Keep reading to learn how you can win it for your own library.
Cover Blurb-

Now for the first time ever, J.K. Rowling's seven bestselling Harry Potter books are available in a stunning paperback boxed set! The Harry Potter series has been hailed as "one for the ages" by Stephen King and "a spellbinding saga' by USA Today. And most recently, The New York Times called Harry Potter and the Deathly Hallows the "fastest selling book in history." This is the ultimate Harry Potter collection for Harry Potter fans of all ages!
Read my complete reviews of the Harry Potter series.
Giveaway
If you would like to win the Harry Potter Boxed Set, Vol. #1-#7 to see how wonderful it is for yourself, just enter the Rafflecopter giveaway below. One lucky winner will receive their choice of an eBook or print copy of the series. If the winner chooses an eBook, I will gift it to them via Amazon. (Sorry, but this is the only eBook retailer that offers the complete boxed set in eBook format and allows gifting). If the winner chooses a print copy, I will have it mailed directly to them via Amazon. Good luck!
International Entrants: You are welcome to enter my contest, but please note that not all eBooks are available in all countries due to copyright restrictions. If this is the case and you've chosen an e-book, Amazon does offer an option to trade for a gift card. If you choose print, I can mail it to you via the Amazon website that services your country, pending availability and cost. Otherwise I will mail it to you via Amazon U.S.'s standard international shipping, but it may take up to six weeks to arrive, and I won't have the capability of tracking the package.
---