November 5, 2015 06:12 PM Posted by juliannadouglas
Right now I have two promos running in which you can snag yourself a free ebook copy of my Christmas romance Heart of the Season just in time for the holidays.
First up the New Adult Book Club on GoodReads is doing a Read It Review It for Heart of the Season. I'm offering 20 copies on a first come, first served basis. There are still 13 copies left. All you have to do is join the group if you aren't already a member, go to the Heart of the Season RIRI thread, and request the book. The only catch is you must read and review it by November 24, 2015.

If you don't have time to read and review it right away, but would still like to read it, The Romance Reviews is also offering a chance to win an ebook copy of Heart of the Season in their Year End Splash Party. On November 12, 2015, my book will be up for grabs. Again, you'll need to register if you aren't already a member. Then you can play the Q & A games to have a chance to win, not only my book, but also other books by several wonderful authors.
---
September 28, 2015 03:13 PM Posted by juliannadouglas
| | |
| --- | --- |
| Image courtesy: The American Library Association | As both a reader and a writer, I stand with the American Library Association (ALA) this week in support of banned books. The ALA instituted Banned Books Week in 1982 to celebrate our right to freely choose and access books without censorship. While not every book may be intended for every reader, this celebration reminds us that each reader should have the right to choose for him or herself what to read. The freedom to read is a basic cornerstone of a democratic society that shouldn't be taken for granted. Books contain a wealth of information, which when accessed can expand our minds and hearts beyond our small corner of the world. There is much that can be learned from books if we take the time to read. Thanks to libraries around the world, those books are available at our fingertips, so long as others don't try to take that right away. Even when the efforts to ban or challenge books are well-intentioned, they can be detrimental to our society, because censorship takes away our right as individuals to choose and think for ourselves. That's why I encourage my readers to stand with me this week in support of banned books. |
---
September 24, 2015 05:35 PM Posted by juliannadouglas
My favorite five-star read for the month of August is a brand new contemporary romance/family saga by a wildly popular author. It's also the start of her new series of the same name. Now some readers – even some of the author's staunchest fans – admittedly didn't like this one as much as her others. The most common complaint I heard was that it's too much like a soap-opera. Well, I'll admit that it is. In fact, it strongly reminded me of the old '80's nighttime soaps like Dallas, Dynasty, or Falcon Crest. From me, however, that's a huge compliment, because I loved those shows, and I've been a regular viewer of some of the daytime soaps in the past too.
Categories: Book of the Month, Giveaways
Tags: J. R. Ward
---
September 11, 2015 07:18 PM Posted by juliannadouglas
From now through September 30, 2015, I'm running a giveaway on GoodReads for three signed print copies of Heart of the Season. Just click on the widget below to enter for your chance to win. Good luck!
Enter Giveaway
Tags: Heart of the Season
---
August 26, 2015 06:30 PM Posted by juliannadouglas
Since attending the 2015 Romance Novel Convention about a month and a half ago, I've brought you a 5-day series on my adventures there, as well as interviews with three of our RNCasanovas, Zack Williams, Paul Gunn, and Orestis Papapetrou. If you haven't read the interviews yet, be sure to check them out. All of these guys are awesome people who, IMHO, definitely deserve lots of love and attention from my fellow romance readers and writers.:-) Now as promised, I'm bringing you a huge RNCon prize package giveaway.
Categories: Giveaways
Tags: Heart of the Season, Jimmy Thomas, Orestis Papapetrou, Paul Gunn, Romance Novel Convention, Zack Williams
---
August 24, 2015 06:00 PM Posted by juliannadouglas
My favorite five-star read for the month of July is the fifth novel in a long-running, epic historical fiction series that is filled with romance, adventure, mystery, Scottish Highlanders, details of life in Colonial America, and a touch of science-fiction in its time travel element. Yes, I'm talking about the amazing Outlander series. I just can't get enough of my most beloved romantic hero, Jamie Fraser, and the love of his life, Claire. These two have captured my imagination in a way that few character's do, and I would literally read anything the author chooses to write about them. In the more than two decades since I started reading this series, no one else has been able to supplant them as my favorite romantic couple. Theirs is a love worthy of legendary status. In this volume, though, their daughter, Brianna, and her now husband, Roger, are front and center as well, afforded nearly as many scenes as Jamie and Claire. While theirs perhaps isn't quite as compelling of a romance as Jamie and Claire's, I still thoroughly enjoyed reading about them. The narrative of this book seems to ebb and flow between more exciting scenes and quieter moments, but in spite of the slower parts, I still found myself eager for the next book when this one ended. That's why I'm naming Diana Gabaldon's The Fiery Cross as my July Book of the Month. If you enjoy historical fiction, historical romance, or time travel stories, and haven't read this wonderful book yet, you should definitely give it a try. Keep reading to learn how you can win a copy for your own library.
Categories: Book of the Month, Giveaways
Tags: Diana Gabaldon, Outlander
---
May 31, 2015 04:00 PM Posted by juliannadouglas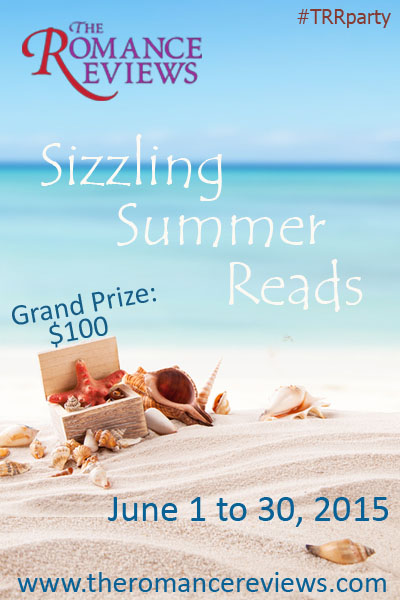 Categories: Events, Giveaways, News
Tags: The Romance Reviews
---
May 20, 2015 04:16 PM Posted by juliannadouglas
I had no five-star reads in March, so I'm fast-forwarding to my April Book of the Month. My favorite book from April's reading is a beautifully written and emotionally engaging historical romance. The hero, Matthew (Apparently I have a thing for heroes with this name, since my February Book of the Month featured one too.:-)), is a brilliant artist and heir to a dukedom that he cares little about. Instead, he lives the life of a rakehell, taking his pleasures wherever and whenever he chooses. With only one person whom he counts as a true friend, Matthew generally lives the life of a loner and trusts no one, least of all women. He's a deeply tortured soul, whose past abuse has poorly colored his perceptions of sex, and therefore women mean little to him except as an outlet for his lust. Even then, he can usually only stomach it when he's drunk. That all changes the night he's beaten senseless and taken to a hospital where he meets Jane. Jane is a kind and caring nurse, and to Matthew, who has been temporarily blinded, her voice sounds like that of an angel. He is shocked to feel a desire to lose himself in her tender touch.
Categories: Book of the Month, Giveaways
Tags: Charlotte Featherstone
---
April 2, 2015 03:26 PM Posted by juliannadouglas
My favorite 5-star read for February was a classic, epic romance that was first published in the early 1990's. It's the story of two star-crossed lovers from opposite sides of the tracks. Matt has worked hard in the steel mills and as a mechanic for every penny he's earned to help take care of his family and get an education that will take him away from his impoverished life. Meredith is the daughter of a department store CEO who was born into wealth and privilege. The two meet by chance at a country club and share an unforgettable night of passion that leads to a pregnancy. He's more than willing to step up to the plate, but they only have one week to get to know one another before he must fulfill a contract to work in the Venezuelan oil fields for the next several years. Once separated, these two young lovers are unknowingly manipulated by her controlling father, until they both grow to hate one another and believe the other has sought a divorce. Eleven long years later, Matt has finally realized his life's ambition and earned his fortune. He's a powerful businessman who is every bit as wealthy as Meredith but finds himself restless with life. Meredith has worked hard to earn her degree in business and make her way up through the ranks of her father's store in hopes that he will appoint her as his successor. Now running in the same circles, the two finally meet up again. The attraction between them still burns hot, but can either of them ever forgive the other for their perceived betrayal?
Categories: Book of the Month, Giveaways
Tags: Judith McNaught
---
February 25, 2015 06:53 PM Posted by juliannadouglas
My only 5-star read in January was the final installment of an extremely popular middle grade/young adult fantasy series that is beloved worldwide for it's relatable characters and magical storylines. Yes, I'm talking about the Harry Potter series, and in this volume, Harry finally meets his destiny. Everything he has learned about and prepared for throughout his years at Hogwarts comes into play as he goes on a dangerous, eventful, and oftentimes frustrating search for the Horcruxes and a way to destroy them. Harry also learns the meaning of true friendship, bravery, and loyalty as all his friends and loved ones band together to help him fight the Dark Lord and his Death Eaters. Many of them don't make it through this book alive, making for a real tear-jerker of a story, but what is achieved in the end prevented them from dying in vain. This book was everything I'd hoped for and more, and I could hardly wait to get back to it when I had to put it down. It was an emotionally powerful ending to an amazing series, and Harry Potter is truly one of the greatest literary heroes to ever grace the pages of a novel. That's why I'm naming Harry Potter and the Deathly Hallows my January Book of the Month. If you enjoy YA fantasy and haven't read this wonderful book yet, you owe it to yourself to give it a try. Or if your copy has become dog-eared from all the repeat readings and you'd like a new copy for your keeper shelf, check out my contest below to learn how you can win a copy for your own library.
Categories: Book of the Month, Giveaways
Tags: Harry Potter, J. K. Rowling
---