May 12, 2015 12:29 PM Posted by juliannadouglas
| | |
| --- | --- |
| | Always perpetually behind on my TV watching, I just last week finished Season 1 of Marvel's Agent Carter. What an awesome show! If you're looking for a show with a strong female lead, you can't go wrong with this one. Peggy Carter is a woman who knows how to be a lady, but is also a soldier through and through, who can go toe-to-toe with the nastiest villains in the world. She's no shrinking violet, needing to be rescued. In fact, she's often the one saving the men around her, even though she rarely receives any recognition for it. On the contrary, she lives in a male-dominated era, where she can scarcely get a foothold to prove herself. Steve Rogers aka Captain America was one of the few men who ever treated her as an equal and recognized her true worth, and I think that's one of the reasons losing him was such a devastating blow to her. |
Agent Peggy Carter (Hayley Atwell) and the Men of SSR (Enver Gjokaj, Chad Michael Murry & Shea Whigham).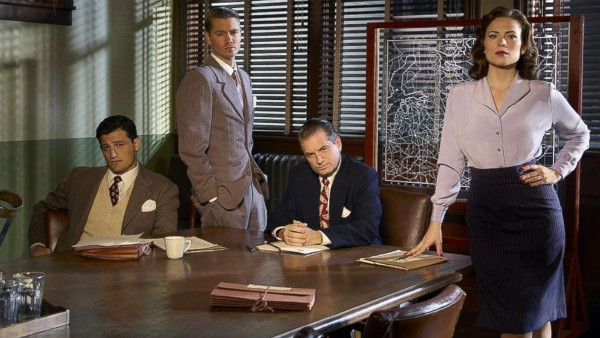 Now that WWII has ended, Peggy works for the Strategic Scientific Reserve (SSR), a covert agency that was the predecessor of S.H.I.E.L.D. She's a full-fledged agent, but all her male co-workers except one, Daniel Sousa, treat her like a glorified secretary. All they'll allow her to do is file their papers, fetch their coffee, and take their lunch orders, so when Howard Stark offers her a risky proposition to help him clear his name after many of the weapons he invented are stolen and wind up on the black market, she can't resist taking the chance. The opportunity allows her to spread her wings in a way that working for the SSR doesn't, but to do so, she basically has to become a double-agent.
Peggy Carter (Hayley Atwell) with Howard Stark (Dominic Cooper) and Edwin Jarvis (James D'Arcy).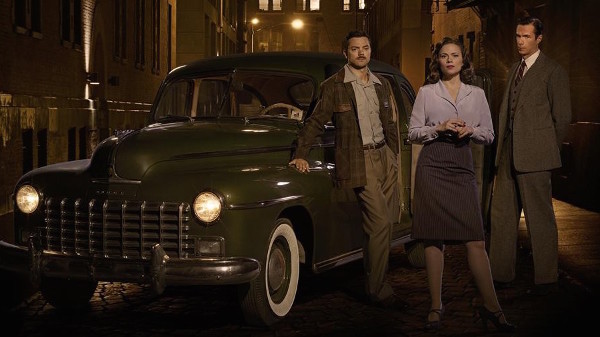 This show is loaded with excitement, action, and adventure. With lots of twists and turns to the plot, there's never a dull moment, but what I love most about the show is its lead character. Peggy Carter is a woman who is confident in her abilities and doesn't need accolades to know her value, but at the same time, she IMHO deftly avoids being the clichéd, overbearing feminist. She is a woman who commands respect, and as a result, a few of the men around her can see her worth. Howard Stark obviously does or he never would have trusted her and enlisted her help, and his faithful butler, Jarvis, does too. Daniel Sousa is another man is who on her side from the beginning, and slowly a few of the other chauvinistic men she works with begin to grudgingly appreciate her talents as well, although sadly they've been so conditioned by their society, they have a hard time embracing gender equality. Peggy doesn't let it get to her though, and my favorite line of hers from the show is in the last episode. Once again, she isn't being given credit for her role in averting a disaster. Agent Sousa is indignant for her, ready to go tell the powers that be what really happened, but Peggy stops him and with calm confidence says, "I don't need a congressional honor. I don't need Agent Thompson's approval or the President's. I know my value. Anyone else's opinion doesn't really matter." It sent chills up my spine. In fact, I think I'm going to print this out and tack it up by my desk to remind me of this every day.
Peggy Carter (Hayley Atwell) with her friend Angie Martinelli (Lyndsy Fonseca).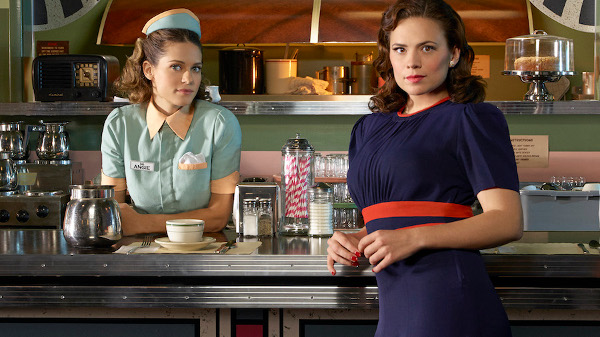 So, moms, and dads too, if you aren't already watching Marvel's Agent Carter, I highly encourage you to check it out with your children, both sons and daughters. Due to violent content, I don't really recommend it for younger kids, but it would be great for teens. Use it as a stepping stone for discussing gender equality issues, and to encourage your daughters to shoot for the moon and your sons to support the women in their lives in their endeavors and to treat them with respect.
Categories: TV Tuesday
Tags: Enver Gjokaj, Gender Equality, Hayley Atwell, Marvel's Agent Carter
---