May 28, 2016 02:44 PM Posted by juliannadouglas

In just three days, I'll be heading to Las Vegas to attend the 4th Annual Romance Novel Convention. I've had so much fun at the last three, I can't wait to get started. I've made many friends there who have become like family to me, and I'm eager to see all of them again. It'll be a family reunion of sorts.:-) I'm also looking forward to meeting new people, learning great information in the educational classes, and having fun at the evening activities and at the Book Fair on Saturday. I know I'm going to have a great time.
Authors: It's not to late to register for this wonderful event. It's only $209 to get 35 great classes and panels taught by best-selling authors and other top professionals. Also meet NYT and USA Today best-selling author and keynote speaker, Victoria Alexander, come to the Meet & Greet to learn why RNC is like a family, attend the Enchanted Library Magical Masquerade Ball, be entered in raffles for valuable prizes, and get a FREE seat to sign books at the Book Fair.
Readers: You're more than welcome at the entire convention too, but if nothing else, come join me and many other authors for the Romance Novel Convention's Book Fair on Saturday, June 4, 2016 from 9 am to 2 pm. We'll all be there signing our books, and I'd love to meet you. Following the Book Fair, come play Cover Model Bingo with our hot male models from 3 pm to 5 pm. It'll be a day of great fun for all romance lovers!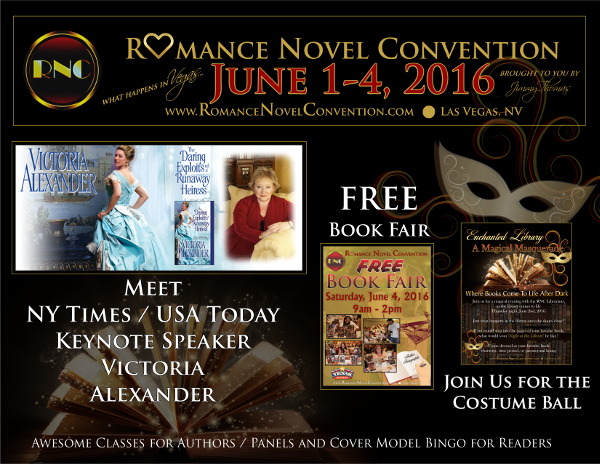 Categories: Events
---