June 21, 2015 05:49 PM Posted by juliannadouglas
For the last two weeks, I've been busily making preparations, and Tuesday morning the hubs and I will once again be heading for Las Vegas to attend the Romance Novel Convention. It's at a brand new venue this year, Harrah's Las Vegas on the strip. It'll be five days of non-stop fun and education that I'm looking forward to.
Educational classes will be offered during the day all five days, then at night, the fun begins. On Wednesday evening, we have the Kick-Off "Eye-Candy" Party in which thirty (maybe more) hot male models will be taking part, courting our votes on who gets to compete for the title of Mr. Casanova. On Thursday night is the Saints and Sinners Costume Ball. As with last year, I'm keeping my costume under wraps until that night, but I'll be sure to take pictures to post afterward. On Friday, we get a Night Out in Vegas provided by RNCon, where we'll get to see a show or do some other fun activity of our choice. All day Saturday is the big Book Fair and Festival, featuring lots of authors, including NYT and USA Today bestsellers; Sean Kanan and Winsor Harmon, stars of the soap opera, The Bold and the Beautiful; celebrity romance cover models, Jimmy Thomas and Cindy Guyer; as well as live music, Casanova bingo, and much more. In the evening, we have Mary Moriarty's Murder Mystery Theater followed by the Casanova Cabaret & Comedy, which will feature more of those scrumptious guys, one of whom will be crowned Mr. Casanova 2015. Finally, on Sunday, we'll get to ogle some more at the RNC all-day live photo shoot. There's so much packed into so little time, I'll probably have a hard time keeping up. My poor introverted self will most likely be exhausted by the time it's over, but it'll all be worth it.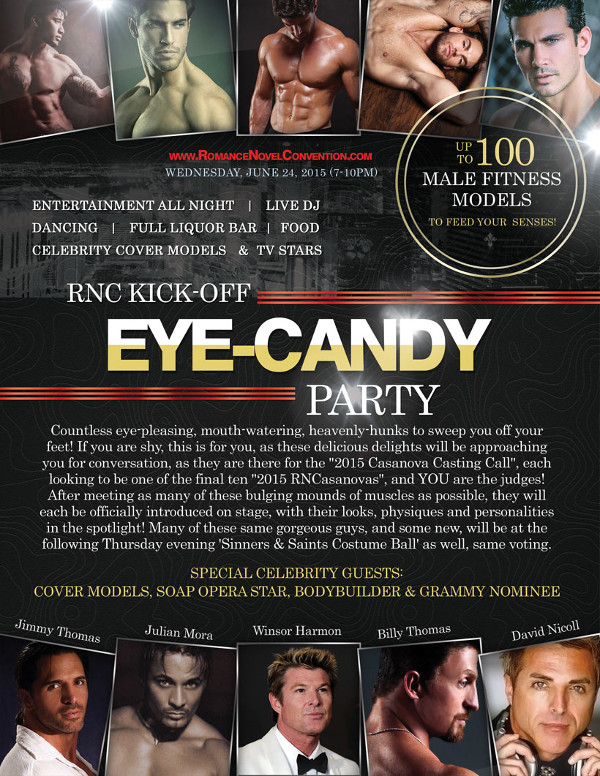 My techie hubby will be presenting two classes, What You Need to Know to Talk to a Web Designer and Virus Protection, Back-ups, Digital File Information, and Free Software For Writers. His classes are scheduled for Wednesday and Thursday afternoons and will be repeated on Saturday and Sunday.
Last but most certainly not least, at Saturday's Book Fair, I'll be signing my first book, His Heart's Desire, and doing an exclusive cover reveal for my new book, Heart of the Season, that will be released in July. If you live in the Las Vegas area or will be visiting next weekend, I hope you'll stop by. I love to meet readers, and you can get an all-day pass to Saturday's festivities, including the evening activities for only $25. If you can't make it though, don't worry, I'll be revealing the new cover on my website after I return.
I always have good intentions of posting updates while at the conference, but I'm usually so busy, I don't have the time or energy. We'll see. Maybe I'll manage something this time but if not, I'll be sure to post pictures and all the juicy details when I get back. If you're going, I look forward to seeing you there. If not, I hope you can make it next year. It's always a blast!
Categories: Events
Tags: Book Signing, Heart of the Season, His Heart's Desire, Jimmy Thomas, Mary Moriarty, RNCasanovas, Romance Novel Convention, Sean Kanan, Winsor Harmon
---