July 13, 2015 07:13 PM Posted by juliannadouglas
The final day of RNCon was my kick back and relax time. No classes I was planning to take, nothing special to do, just a day where I was able to simply get up, go down the convention hall, and see where the day took me. I was so happy to finally turn in my strappy heels for sneakers (my feet still ached for a few days after) and my business casual attire for jeans and a t-shirt.
My hubs did have a class to teach that afternoon, so we went down to lunch early. There weren't a lot of people in the dining hall at that point, just enough to fill one table. The food wasn't set out on the buffet yet, so we pulled up chairs and joined them for a little relaxed conversation. Natalie and Will were there, but we also got to chat a bit with some other people we'd seen around but hadn't really had the opportunity to talk with before that. Finally the servers started bringing out our food, and when we heard we were getting pizza for lunch, everyone cheered.:-)
Me with model and Bollywood actor, Vikkas Bhardwaj.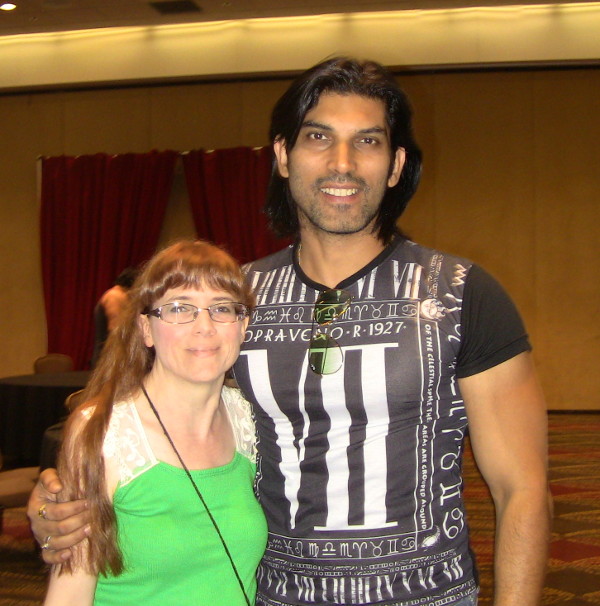 After lunch, my hubby went off to his class, while I joined Natalie and Will over in the ballroom for the RNCasanova photo shoot. For the next couple of hours, we sat there shooting the breeze with each other and some of the other attendees who were still there, while enjoying the hunky men posing for photos (at least Natalie and I were enjoying it; Will maybe not so much;-)) Eventually my husband joined us, and while he was there, we got to meet model and Bollywood actor, Vikkas Bhardwaj. I only wish we'd had a little more time to get to know him; he seemed like a really nice guy. I did however, get a photo with him, and we chatted for a few minutes with his newlywed sister, who showed us beautiful photos of her traditional Indian wedding. Eventually, my husband and Will took off elsewhere, but Natalie and I stayed a while longer. I got one last photo with three of our RNCasanovas: Michael, Zack, and Orestis, then said my farewell to Jimmy.
All the photo shoot pictures below except the one of Zack are courtesy Natalie Wilson.
Jimmy Thomas directs while photographer, Bruce Heinsius captures the moment. Vikkas is modeling while Michael looks on.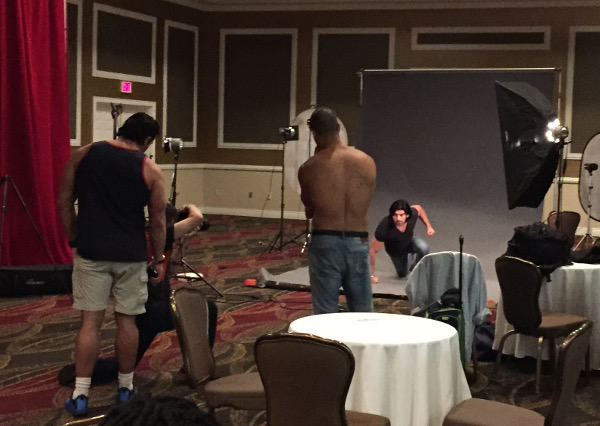 | | |
| --- | --- |
| Michael plays the sexy special ops guy. | While Orestis plays the sexy cowboy. |
| Zack with a big smile. | Michael plays detective while Orestis watches from the sidelines. |
Bruce shows Michael his photos while Orestis gets ready for his turn in the spotlight.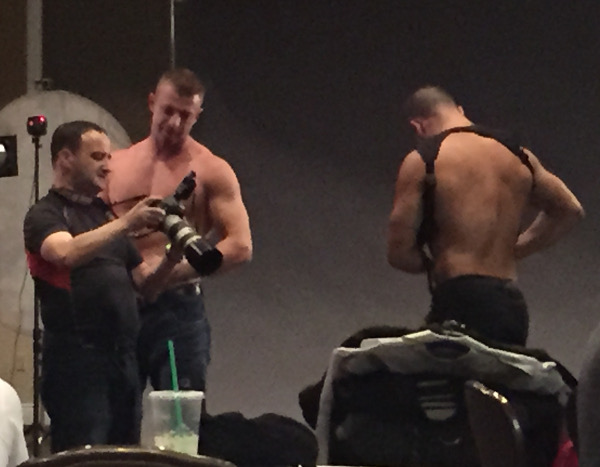 That evening, Natalie, Will, Doug, and I went out to dinner at Flavors Buffet in the hotel. There was way more scrumptious-looking food at that buffet than I ever could've hoped to eat. The desserts alone seemed to stretch for miles. Oh, if only my stomach were bigger! Sadly, I had to rein myself in. But thankfully I didn't have to rein in the conversation. We had a great time with Natalie and Will, not just that night, but throughout the entire conference. I hated to see it end. One of the best things about conferences like this is the opportunity to make connections with new people you might not have met otherwise. But the bad thing is that I and my new friends are now spread out all over the country. I have faith, though, that we'll be able to keep in touch via email and Facebook and hopefully meet up again at a future RNCon.
One last photo of me and the guys (From left to right: Orestis Papapetrou, Michael Newkirk, Zack Williams).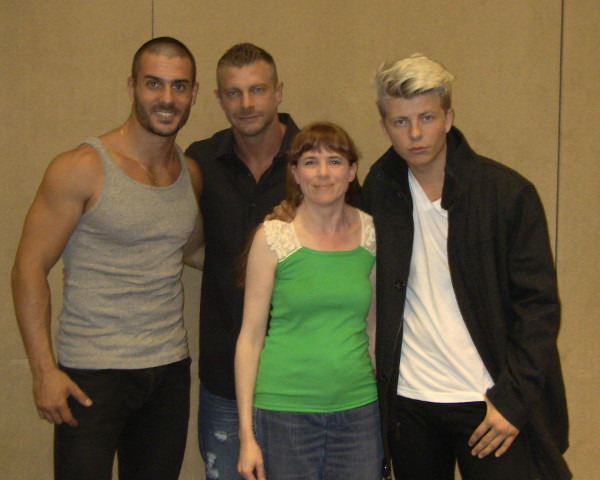 I can't thank Jimmy Thomas and all the wonderful RNCon volunteers enough for making this a fun and enjoyable place to come every year. But more than that for creating a place where I can learn, grow, change, and spread my wings and fly. Every RNCon has been great for me, but this year's event was particularly magical and I know I'm not the only who felt that way. In this place, I've found a rare sense of family and belonging, a place where I'm accepted for just being me, and that's something that is priceless to me. I'm already saving up my pennies and making plans to return next year, because I can't wait to see my romance family again. You guys rock!
While this may be the end of my personal adventures at RNCon 2015, this isn't the end of the RNC fun. If they're still game, I'm planning to bring you interviews with our hunky RNCasanovas as well as a great RNC prize package so keep checking back for more soon.
Categories: Events
Tags: Bruce Heinsius, Jimmy Thomas, Michael Newkirk, Natalie Wilson, Orestis Papapetrou, RNCasanovas, Romance Novel Convention, Vikkas Bhardwaj, Zack Williams
---