July 3, 2015 06:43 PM Posted by juliannadouglas
Even though every day was a great day, I would have to say that Day 2 of RNCon 2015 was my favorite. It certainly helped that I was much more well-rested to begin the day. I kicked things off by going to Randi Alexander and Jackson Young's class "Public Speaking Made Easy." For a while now, it's been in the back of mind that I'd like to teach a class of my own at RNC, but like many people, I'm terrified of public speaking. In fact, I came very close to participating in a panel discussion this year, but it was canceled due to no one else signing up to present with me (I can't really argue that one person doesn't make a panel.:-)). Anyway, given the relief I felt when I saw it was dropped from the schedule, I figured if I ever have any hope of making my aspirations of speaking a reality, I'd better learn something about it, hopefully how to control my nerves.
I was pretty nervous merely about attending the class because it had been billed as "interactive." As it turned out, I found myself instantly as ease with Randi and Jackson's presentation style. They were incredibly funny but also extremely informative. I learned a lot, and while I still don't know if I'm quite ready to make my debut as a speaker yet, I'm at least armed with some good information that will help me toward that goal. Oh yeah, and Jackson nicknamed me "Shy Girl," a moniker that stuck for the entire conference. I honestly don't think he ever learned my real name (or pen name as the case may be), which turned into a really funny moment on Day 4 that I'll write about later.:-)
From there, I went to Lunch, during which our speakers were HRM King Timothy and The Crown Princess Samantha of Shilo and The Grand Duke Travis McHenry of Westarctica. I got to learn all about micro-nationalism, which as it turns out was quite fun and interesting. Having briefly been a member of both the Society for Creative Anachronism (SCA) and the Celtic Living History Foundation many years ago and a huge fan of Renaissance Faires, micro-nationalism kind of reminds me of both, just in a slightly different way.
After that, I went to the class, "Understanding the Amazon Algorithm" taught by Bethany Burke, CEO of Blushing Books. While Amazon's algorithm is still largely enigmatic, I did learn many tidbits of useful information. Bethany also very graciously answered my questions after class about how Amazon categories work, something that will be invaluable to me in my future publishing efforts.
Full view of me in my Daenerys Targaryen costume.

I took more than an hour break after that, before heading out to the Aveda Institute for an appointment to get my make-up done for that night's costume ball. I quickly figured out that I should have left the hotel a lot sooner, because things started going awry in rapid succession. I forgot how to get into the parking garage. Once I found the entrance, I thought I might pass out after rapidly climbing the stairs to the fifth floor, in heels, in 100 plus degree heat. Luckily I didn't, but then I couldn't figure out how to get out of the winding streets behind the hotel and back out onto The Strip. It took me fifteen minutes just to accomplish that, which only left me about fifteen minutes to make it to my appointment in heavy traffic. I thought I would call to let them know I was running late, only to realize I'd left my cell phone in my hotel room. Ugh!

Well, thankfully, I finally made it to Aveda, and they graciously said they'd still take me. At last, I was able to relax and enjoy being pampered by my talented make-up artist, Annalise (I hope I'm spelling her name correctly). All the make-up girls were big fans of Game of Thrones, so they were really excited about me dressing up as Daenerys Targaryen from the show.
I can't thank Annalise enough for the beautiful make-up and all the people at Aveda Institute for being so nice and making my experience there a lovely one. If I'm ever in need of beauty services when I'm visiting Las Vegas again, I'll definitely call them first. In fact, maybe I'll make a point of going there to pamper myself next year.
Closeup of me in my Daenerys Targaryen Costume. Many thanks to Annalise at the Aveda Institute for doing a great job with my make-up. Even Drogon had a smile for the camera.:-)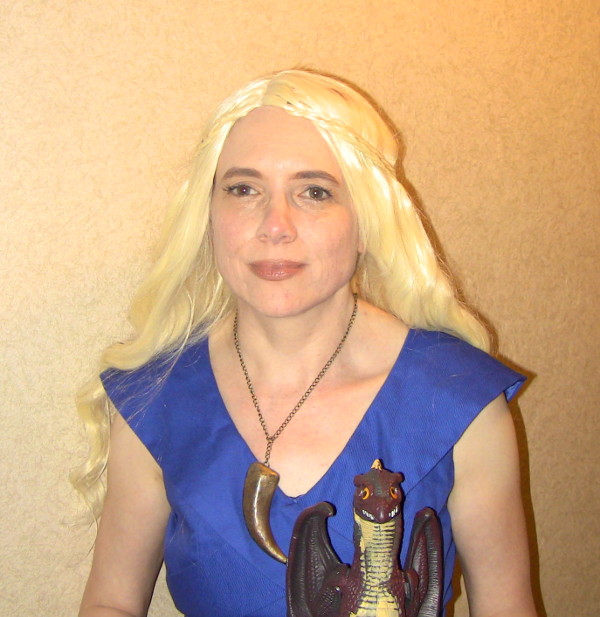 I made it back to the hotel just in time for the start of the Sinners & Saints Costume Ball put together by Tara Rose and Gwen Steel, two very lovely ladies. I'm not one who likes to draw attention to myself, so I was kind of nervous about the costume I'd chosen. When I picked it, I was only thinking in terms of how much I love Game of Thrones and the character of Daenerys, not really considering the popularity of the show. When it arrived, I tried it on and immediately asked myself, "What were you thinking?" I shouldn't have worried though, because it turned out to be an incredible night. I did get a lot of compliments on the costume, but not to the point of making me feel uncomfortable or anything. In fact, a few people didn't even recognize me at first. I ended up having a blast pretending to be someone else for a while.
JossiLynn, who was dressed as a Catholic school girl, and I, both entered the costume contest as Saints. I was slightly terrified to promenade across the dance floor, not only because I would momentarily be the center of attention but also because I wasn't wearing my glasses and couldn't see a darn thing. Up until then, I'd either been sitting at a table or JossiLynn had been leading me around like a blind person.:-) Anyway, I made it without mishap, but not without startling a couple of people with my dragon (but he's so cute!;-)). No, I didn't win, and I honestly didn't care. It was simply fun to be there and participate.
Me and RNCasanova Paul Gunn. My queenly self enjoyed sitting on the "throne" that was set up for the Royals. Paul said he should have dressed as Khal Drogo to match me.:-) (Thanks to Leo Charles Taylor for snapping this picture.)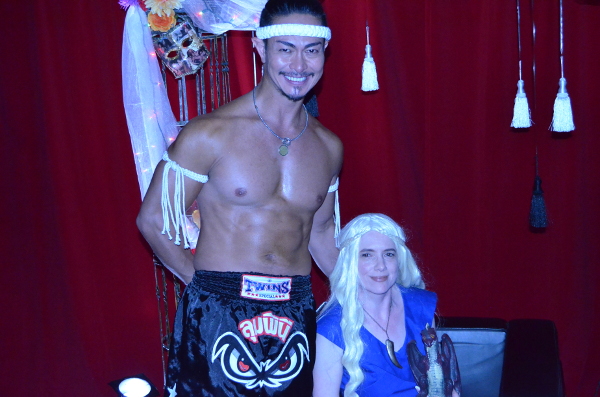 The evening wrapped with RNCasanova Zack Williams asking me to share the last dance. I never dance so I warned him I wasn't very good at it, but he was incredibly patient with my two left feet. I spent most of the dance concentrating really hard on not stepping on his toes too much, but when he dipped me (which he thankfully warned me of in advance), I just relaxed into it and trusted him not to drop me. He definitely didn't let me down, so many thanks to Zack for another memorable highlight of my evening. The last thing JossiLynn and I did was have our pictures taken in our costumes with Jimmy. I forgot to bring my camera down with me, and my phone camera wasn't working. Our wonderful event photographer, Bruce Heinsius, snapped those pics, as well as some of me and Zack that I hope I'll be able to share at a later date.
That's all for my very full Day 2, but I have lots more stories to share so check back soon.
Categories: Events
Tags: Aveda Institute, Bethany Burke, Blushing Books, Bruce Heinsius, Daenerys Targaryen, Game of Thrones, Gwen Steel, HRM King Timothy of Shilo, Jackson Young, Jimmy Thomas, JossiLynn, Leo Charles Taylor, Paul Gunn, Randi Alexander, RNCasanovas, Romance Novel Convention, Tara Rose, The Crown Princess Samantha of Shilo, The Grand Duke Travis McHenry of Westarctica, Zack Williams
---