July 1, 2015 02:57 PM Posted by juliannadouglas
Well, I'm safely back home in Phoenix after spending an exciting week in Las Vegas, attending Romance Novel Convention 2015. This has been my favorite RNCon so far. I can't even begin to tell you how much fun I had there and how many amazing memories I've brought home with me to cherish, but I'm going to try, starting with Day 1.
Our view of the High Roller from the tiny balcony of our hotel room at Harrah's Las Vegas.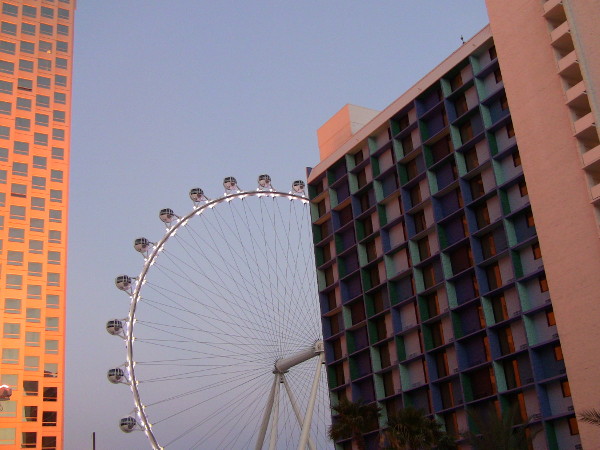 I was so excited and wound up, I couldn't go to sleep on Tuesday night. When that wake-up call came at 6:30 a.m. the next morning, I'd only gotten about four hours of sleep, which is half what I normally try to get. I was so tired and grumpy, I briefly toyed with the idea of staying in bed a while longer and skipping breakfast, but I'm so glad I didn't because I might have missed out on meeting a wonderful person.
Our view the other direction from our hotel room balcony of The LINQ and Ceasar's Palace.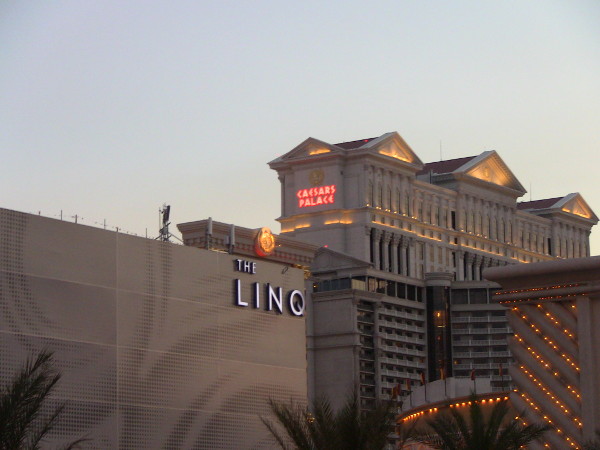 The hubs and I went down to the dining hall, and after gathering our food from the buffet, we headed for a table where only one woman was sitting. I asked if we could join her, and she was quite eager for the company. I instantly sensed a kindred spirit, but being the shy, cautious person that I am, I decided to feel her out a bit more throughout the meal. By the time we'd finished eating, I'd discovered it was her first time at RNCon and that she was attending alone, so I asked if she'd like to hang out together, an offer she gladly accepted. This was the beginning of what I think will be a life-long and serendipitous friendship with JossiLynn. We felt an immediate connection that only grew throughout the days we kept each other company. Anyone who knows me well will tell you I don't make friends easily and things like this rarely ever happen to me, so I was amazed to find someone I could relate to so well, so effortlessly, and so quickly.
Me and JossiLynn laughing and talking at Jimmy Thomas' Meet & Greet while Jimmy signs photos in the background for the other ladies. It's hard to believe that this point JossiLynn and I had only known each other for about eight hours.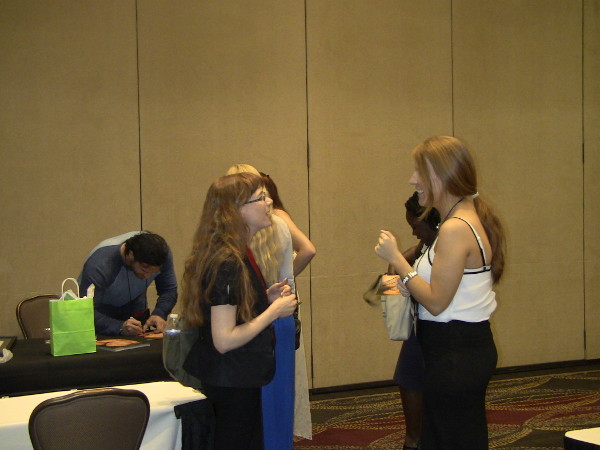 That afternoon, my hubby, Doug, taught his class What You Need to Know to Talk to a Web Designer, which I attended to show my support. After that, we both went to Courage Knight's class on Achieving Your Own Happily Ever After, in which she imparted relationship wisdom gleaned from thirty-five years of marriage. I particularly liked her handout 100 Dates to Make with Your Spouse. I'm looking forward to trying out some of those ideas. To round out the afternoon, JossiLynn, Doug, and I went to our wonderful host, Jimmy Thomas' Meet and Greet. The four of us enjoyed a lovely relaxed talk before others came to meet with Jimmy, something which rarely happens as he's usually so busy. JossiLynn and I were also able to give him the gifts we'd brought and take photos too.
Me and Jimmy Thomas chatting while I gave him my gift. He loves movies and chocolate, so I brought him my all-time favorite TV show/movie, Firefly and Serenity along with a bag of chocolates.:-)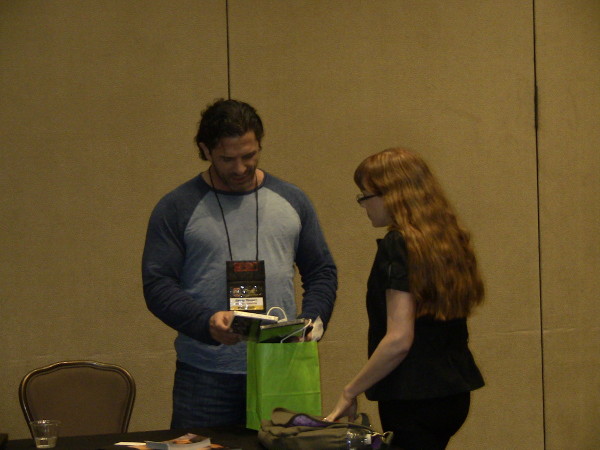 At dinner that night, imagine my surprise when I met yet another lovely person with whom I hope to share a long friendship. Much like that morning, when we met JossiLynn, Doug and I headed for a table where just one couple was sitting. Soon we struck up a conversation, and another kinship was born with Natalie Wilson and her husband, Will, who also happens to be a tech guy just like my hubs. Throughout the days to come, we shared lots of fun and laughter with them.
Me, JossiLynn and Jimmy.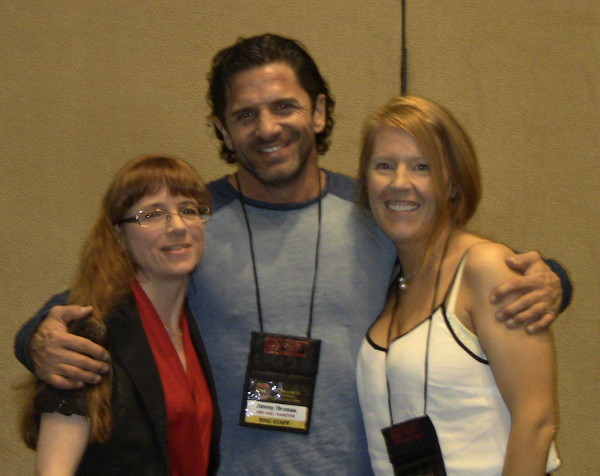 Finally, that evening, JossiLynn and I attended the Kick-Off Party, where we had a very enjoyable time. While neither of us were much for dancing that night, we did get to chat it up with three of our four handsome RNCasanovas: Paul Gunn, Michael Newkirk, and Zack Williams. We also discovered, quite by accident, that apparently leaving me alone at a table was a good way to attract male attention.;-) Again, this is something that never happens to me, so I was incredibly flattered. It made JossiLynn immensely happy too, since she's still looking for Mr. Right.:-) Anyway, I have no idea how I made it through the day on so little sleep (I must have been riding an endorphin high), but it was so totally worth it.
Be sure to check back to learn about more of my RNCon adventures in the days to come.
Categories: Events
Tags: Courage Knight, Firefly, Jimmy Thomas, JossiLynn, Michael Newkirk, Natalie Wilson, Paul Gunn, RNCasanovas, Romance Novel Convention, Zack Williams
---