July 19, 2014 07:48 PM Posted by juliannadouglas
Day 4 of the Romance Novel Convention mainly consisted of only two big events. From 10 AM to 2 PM was the Book Fair/Author Signing in which I participated. It was my very first in-person appearance as a published author, so of course, I woke up early with nervous anticipation. I finally went down around 9:30 to set up my table, which didn't take long, since I only have one book. Strangely enough, once I finished that task and sat down, I felt cool as cucumber and had no trouble conversing with the attendees who stopped by my booth. In fact, the first person I got the opportunity to chat with was RNCasanova Weston Bouchér. I thought it was very sweet of him to take the time to do that, because he certainly didn't have to. Even though I know he probably chatted with dozens of other ladies that day and throughout the week, it made me feel special. After my hubby had his breakfast, I sent him on a mission to get as many author autographs as possible on my swag bag. About an hour later, his poor introverted self came dragging into my booth exhausted from talking to so many people. I took pity on him and let him man my booth while I went in search of more signatures, which pretty much took up the remainder of my time there. I may not have sold much, but it was a good first experience for me.
After that, I tried to rest as much as possible for the next few hours and had a quiet dinner with my hubs at The Grotto (an Italian restaurant inside the Golden Nugget). Despite that, the mental, emotional and physical exhaustion really started to take their toll, so that when it was finally time for the premier event of the evening, the Mr. Casanova Cover Model Contest, I really wasn't feeling very well. I knew I'd be kicking myself later if I didn't go though, so I forced myself to get dressed and head for the ballroom. Thankfully as the evening progressed, I slowly started feeling a little better, and I'm so glad I went. I can honestly say that these guys did not disappoint. Weston, Kaden, and Justin put on one heck of a show for us. Three ladies from the audience got to come up and ask questions of our bachelors, and lemme tell you, they were not holding back. Both the questions and the answers were getting pretty risqué. Whew! <fans self> The Casanovas also acted out a couple of scenes from romance novels as the authors read them, and performed a fun dance routine to "It's Raining Men." In between the Casanovas' performances, MC David Nicholl sang a few songs for us, and Julian Mora did a sexy striptease that was so smokin' hot I'm surprised the stage didn't catch on fire. Of course, the evening was capped off with the crowning of Mr. Casanova 2014 who was... drum roll please... Weston. Congrats! Day 4 was filled with many memorable moments I won't soon forget.
Here's me at the Book Fair: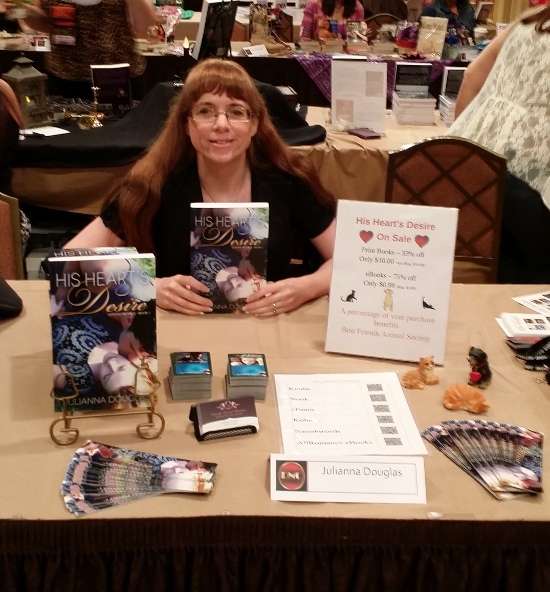 And here's my friend, D. T. Dyllin: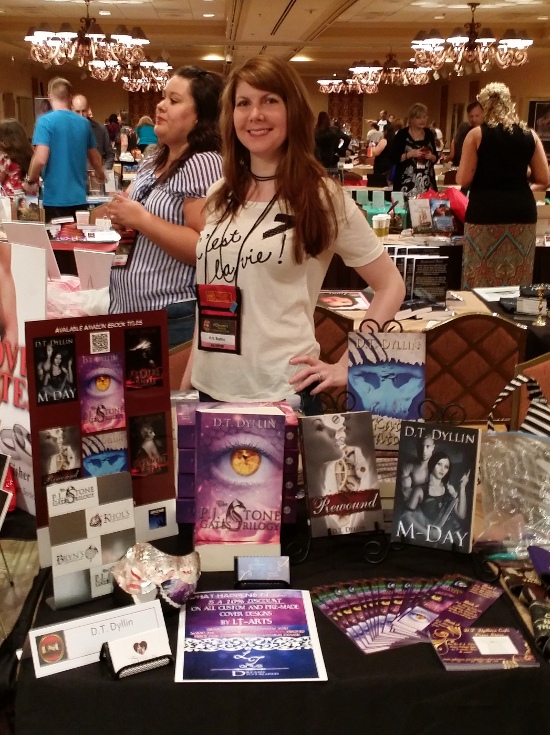 Categories: Events
Tags: D. T. Dyllin, David Nicholl, Julian Mora, RNCasanovas, Romance Novel Convention, Weston Boucher
---