July 18, 2014 11:52 AM Posted by juliannadouglas
Day 3 of the Romance Novel Convention was probably the busiest and the longest for me. Since my first class of the day wasn't scheduled to start until past noon, this was supposed to be my sleep-in day, but the sounds of screaming children running down the halls, carpets being shampooed outside our hotel room door, and a repairman (presumably) pounding repeatedly in the room next-door made that all but impossible. With that being the case, I ended up dragging myself to Victoria Zackheim's class titled What Is the Arc, and Why Is It Important?, but it was so totally worth it. This was essentially a continuation of her class on character development from the previous day, and it was extremely helpful in understanding how to build characters who will engage readers. While I was in this class, my hubs was teaching his second class on Virus Protection, Back-Ups, Image File Types & Sizes, and Free Software for Writers. Yeah, I know that a mouthful.;-) I have to admit it's kind of nice having a tech guru in the house, so I don't have to worry about all that stuff. I also got the added perk of seeing some of the software in action while he was creating his presentation, and I'm intrigued. I may be using Mind Mapping or oStorybook to outline my next book.
After another quick lunch, I went back down to the convention floor with the intention of attending another class, but when our instructor appeared to be a no-show, I wandered off. I don't know if he ever did show up, but as I was trying to decide what to do next, I ran into our event photographer, Bruce Heinsius, and ended up filling that class hour having a fascinating discussion on photography with him. It was more for my daughter's benefit than mine, since I have absolutely no talent for visual arts. Nevertheless, I learned a lot about this artistic medium. Suffice it to say, there's far more to it than simply pointing a camera and pressing a button.;-)
From photography, I switched gears quickly to attend a discussion panel by Victoria Zackheim and Anne Perry on Writers Taking Risks. I can't even begin to say how inspiring this class was. I felt like the fledgling student sitting at the feet of the Zen masters. This was a very emotionally charged class for me, because so many of the things Victoria and Anne said hit so close to home. Many times throughout that hour, I was fighting back tears. Afterward, I had to go up to my room and have a moment.
| | |
| --- | --- |
| With my emotions once again on an even keel, I was ready for the big event of the evening, the 2nd annual InD'Tale RONE Awards. With the ballroom so beautifully decorated and our hostesses dressed up so elegantly, it felt like indie publishing's equivalent of the Oscars. It was wonderful to participate in celebrating my fellow authors' accomplishments. I couldn't have been more excited when my friend, D. T. Dyllin's book Open Gates won for best paranormal/fantasy book cover. It was designed by Lindsay Tiry. The awards were interspersed with some great entertainment, including America's Got Talent fan favorites the KriStef Brothers and the vocal stylings of Grammy nominee, David Nicholl, who also acted at RNCon's event MC. After the awards ceremony, my hubs and I went out for a late dinner with D. T. and her hubby, Chris. We stayed up way too late, but had a blast talking with them. So Day 3 was a fun but exhausting day. | |
Here's me, all dressed up for the RONE Awards. Again, sorry for the poor image quality. Somehow the auto-flash on our camera got turned off, so most of my conference pics turned out rather dark.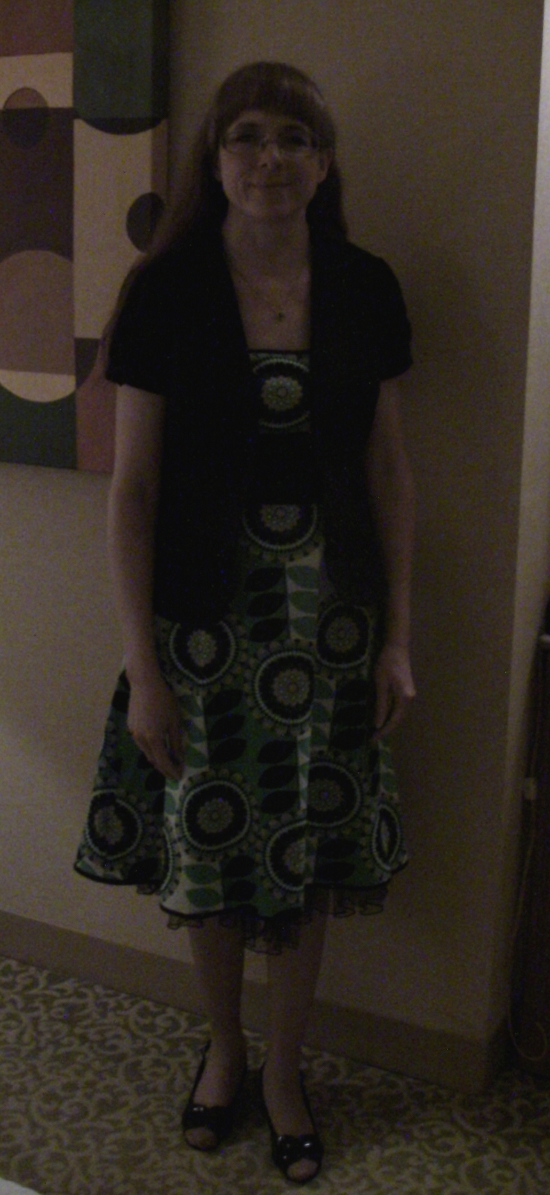 Categories: Events
Tags: Anne Perry, Bruce Heinsius, D. T. Dyllin, David Nicholl, InD'Tale Magazine, KriStef Brothers, Romance Novel Convention, RONE Awards, Victoria Zackheim
---