July 16, 2014 12:03 PM Posted by juliannadouglas
Well, I'm finally home from a whirlwind seven day trip to Las Vegas to attend the Romance Novel Convention. I know I had said I'd try to post while I was there, but unfortunately, I didn't have much free time and when I did, my introverted self just needed to chill. So, now that I'm back I'm going to write a series of posts about my adventures there.:-)
Hubs and I arrived in Vegas one day early on Tuesday, July 8. I spent most of that evening in nervous anticipation of the event to come and didn't sleep well that night. Yeah, I know, I'm weird, but there you go.;-)
Wednesday was Day 1 of the convention, and we went down early to get registered and pick up a class schedule. Due to a few speakers who wouldn't be arriving until later in the day, some classes were being rearranged on the fly, so I ended up only attending two classes that day. One was Angela Knight's Brainstorming to Revision: The Process of Creating an Erotic Romance, which actually ended up being more about the general process of writing any romance not just an erotic one. She mentioned that this is a much longer class of several hours that she condensed down into only one, but it was very well outlined and she presented lots of great advice about each step of writing a romance. The second class I took was a panel discussion on book reviews presented by T J MacKay & the Staff of InD'tale Magazine. I very much enjoyed listening to these ladies talk about their love of reviewing and how they really want to see us indie authors succeed. If nothing else, I came away feeling like I'd placed my book in very good hands, because their reviewing philosophy matches mine almost perfectly.
That evening was the big kick-off party featuring retro music from the 60's, 70's, 80's, and 90's. I attended with my new author friend, D. T. Dyllin. Neither of us are really party girls, so dancing isn't exactly out thing. I did enjoy my conversation with D. T. and the music, but watching other people dance only entertained us for so long. We ended up calling it a night around 10 PM. So, it ended up being a rather quiet first day for me.
Here's me, all dressed up for the party. Sorry for the poor image quality. Somehow the auto-flash on our camera got turned off, so most of my conference pics turned out rather dark.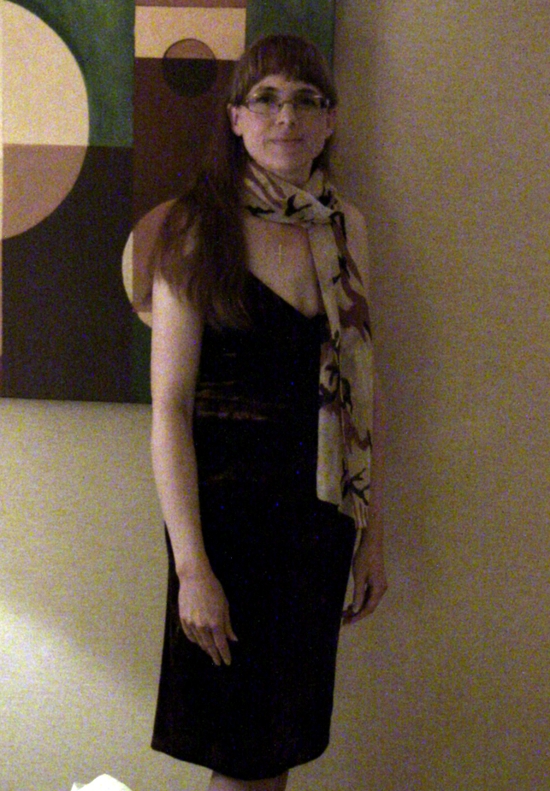 Categories: Events
Tags: Angela Knight, D. T. Dyllin, InD'Tale Magazine, Romance Novel Convention
---