June 14, 2017 04:25 PM Posted by juliannadouglas
Day 3 was the best of the three days we spent at Phoenix Comicon. This was the only day we went in costume as Captain Malcolm Reynolds and Kaylee Frye of Firefly, so it took us a tad longer to get ready. Sadly my husband wasn't able to carry his prop gun, but at least I was able to take my parasol, which I'd previously thought would be disallowed, as they originally said no props of any kind. We headed to the convention center around 11 am again, and this time it only took about fifteen minutes to get inside. It appeared that lessons were learned from Friday, and they'd gotten all the kinks worked out of the security situation to make the lines flow much faster.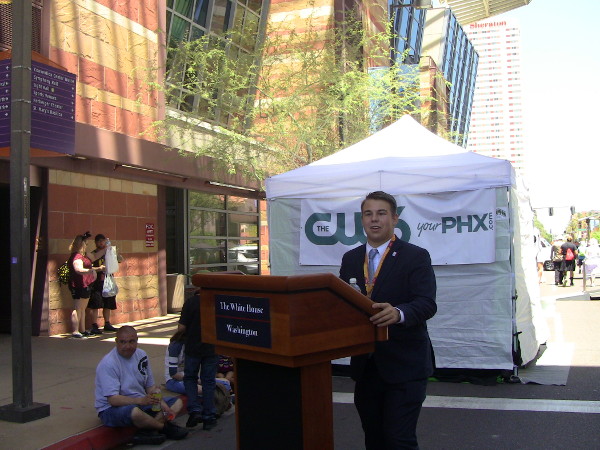 This guy cracked me up. He was cosplaying as Sean Spicer ala Melissa McCarthy. His podium was on wheels just like hers is on SNL.
We did a little window shopping again, before our first major stop of the day, which was the Con Man panel featuring Alan Tudyk and P. J. Haarsma. We went up to the huge third floor ballroom half an hour early, but a sizable line had already formed. As we waited, we saw another couple dressed as Kaylee and Jayne, which was fun. I actually found three other Kaylees that day, two Jaynes (along with several people who were only wearing Jayne's hat), and possibly one other Mal. (It was a woman who was possibly cross-playing and her costume didn't match precisely, so I wasn't 100% sure on that one.) Once we got inside the ballroom, we realized we'd been far enough back in the line that we had to sit about halfway back in the room. That left us approximately twenty to twenty-five yards away from the stage. Not a great view, but luckily they had cameras set up in the back to project the stage onto two big screen on either side of the room. Alan and P. J. discussed the show and then allowed guests to come forward and ask questions. It was hilarious because Alan forgot to bring prizes with him for the people who asked questions, so he was autographing random stuff for them. He was like, "Here's a glass of water for you" or "Here have a napkin." Alan's an incredibly funny guy, so we were cracking up all throughout the presentation and had a great time.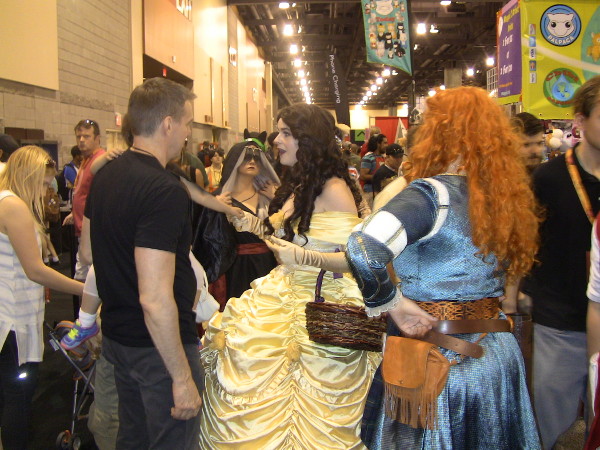 Belle & Merida cosplayers stopping to enchant a little girl.
After that we went down to the food court for lunch, but unlike the day before it was later in the afternoon, meaning no long lines, no losing each other in the crowd, and no hunting and pouncing to get an empty table. After lunch, we went to the Who Is Mr. Robot? panel. The panelists were a group of fans of Mr. Robot, discussing different aspects of the show both amongst themselves and with the audience members. My husband even got in on the action, talking and asking questions, which is unusual for an introvert like him and showed me just how much he was into the discussion.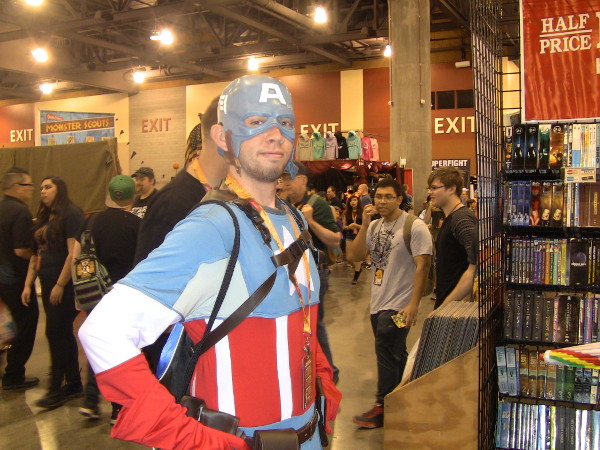 A Captain America cosplayer.
When that panel was finished, we decided to see if we might be able to meet Alan Tudyk. He still had one autographing time left that day, so we headed up to the top floor again to figure out how to buy an autograph. Sadly his slots were all sold out, so we headed back down to the basement to do our real shopping. We'd gotten an idea of the things we wanted throughout the days we'd been window shopping, so we headed for those specific booths. My husband wanted a Spectrum t-shirt, but the Con Man booth was all sold out of his size. Bummer! However, I was able to get a lovely replica of Arwen's Evenstar pendant from Lord of the Rings. Then I went searching for a booth that had some t-shirts I'd liked. While looking at the shirts, I suddenly realized that we were late for the last panel we wanted to attend, so we rushed back upstairs, arriving just in time for Frontiers of Policy: Science and Humanism at Work in Government. The panelists were a combination of scientists and local politicians looking at the role of science in public policy. It was yet another fascinating discussion that also served to inspire my husband to become more involved in the political arena.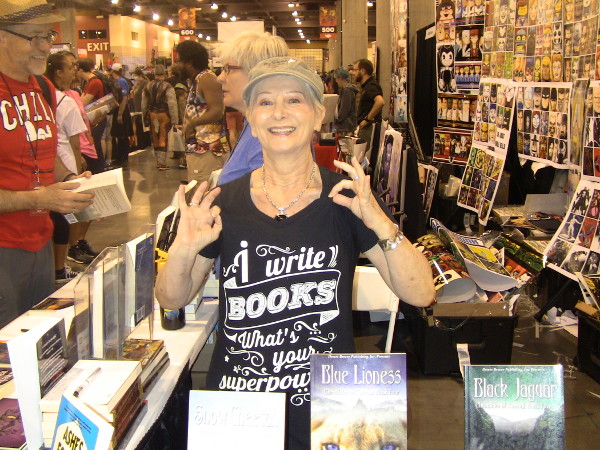 Vijaya Schartz, one of my fellow authors from the Romance Writers of America Valley of the Sun chapter, out selling books. Behind her is Linda Andrews. As we were going up and down the aisles, I spotted their booth and stopped by to say hi. Vijaya was sporting her "I Write Books, What's Your Superpower?" t-shirt. I need to get one of those.;-)
Once that panel was over, we were going to go back to the exhibit hall to finish our shopping, but we encountered one of my husband's former co-workers who brought it to our attention that the exhibit hall was now closed. Since we had no plans to return for the final day, that was a major bummer! It was also the main reason why I mentioned in my Day 1 post that it turned out to not be such a good idea to wait until the last day to buy all the things we wanted. However, I simply chalked it up to yet another lesson learned for future reference. My husband managed to order his Spectrum t-shirt online so that wasn't a total loss, but I was planning on buying him an awesome t-shirt depicting Deadpool sitting on the Iron Throne emblazoned with "The Game Is Over."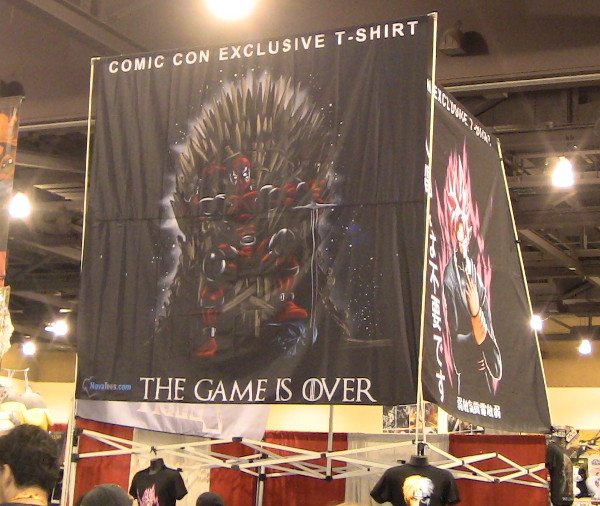 The minute I saw it, I cracked up and totally loved it. Unfortunately it was a Con exclusive, and I haven't been able to find one quite like it anywhere else, but at least we got a photo of it. To close out the night we headed back to our hotel room to change out of our costumes, then enjoyed a leisurely dinner at a Mexican restaurant in the Arizona Center.
I'm glad we didn't attempt to go back on the last day, because I was pretty exhausted. It was nice just to sleep in and have plenty of time to get our stuff packed up to leave. I did manage to get a wee bit more fun, though. While I was waiting for my husband to walk over to the parking garage and bring our car around, the bell hop, who was a really nice guy, pointed out that they had a couple of the cool cars parked right there in at their front door. I can't believe I hadn't noticed them before. One was from Supernatural, and if I'd been thinking I would have taken a photo for my daughter who's a big fan of the show. He also regaled me with stories of a few of the celebrities he'd met that weekend, while doing his job. He actually got to check in Jon Bernthal (The Punisher) and the legendary Dick Van Dyke. OMG! I can't believe they were staying in the same hotel as us. It would have been a thrill to run into them. That was pretty much it. Despite a few glitches here and there, overall, I enjoyed our first experience at Phoenix Comicon and hope to return in future years, this time prepared with all the knowledge I gleaned to hopefully make it even better next time.:-)
Categories: Events, Slices of Life
Tags: Alan Tudyk, Captain America, Con Man, Firefly, Kaylee Frye, Lord of the Rings, Malcolm Reynolds, Mr. Robot, P. J. Haarsma, Phoenix Comicon
---