August 27, 2014 05:19 PM Posted by juliannadouglas
I had the privilege of meeting today's Hump Day Hunk at the Romance Novel Convention in July, where he was crowned Mr. Casanova 2014. Being a shy introvert, I tend to be a bit awkward and tongue-tied around incredibly attractive men and usually get overlooked by them in return, so one of my favorite memories of this year's RNCon was this guy taking the time to chat with me at the Book Fair. With it being my first author signing, I was a little nervous, so I was surprised to feel completely at ease talking with him. He struck me as a kind, generous, warm-hearted, and truly genuine person. He was a really great sport and totally into his role as an RNCasanova, providing some blush-worthy answers to the naughty questions being asked during the Dating Game portion of the Mr. Casanova Contest.;-) He has multiple creative talents outside of modeling too. He's equally at home behind the camera as in front of it, and is co-owner of a successful photography business with his wife. In addition to that, he's a gifted singer and songwriter, primarily producing original music for use in television, movies, video games, and commercials. Throughout my interactions with him, I've been thoroughly impressed with his creativity, candidness, and sincerity and hope my readers will feel the same, so without further ado, let me introduce this week's Hump Day Hunk, Weston Bouchér. Weston generously agreed to an interview with me, so I hope you enjoy!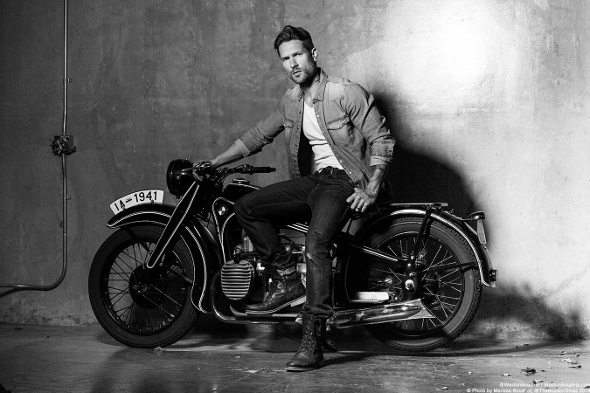 For me, beauty is more than skin deep, so I'm the kind of girl who likes to know something about the man behind the handsome face and fit body. Let's start with you giving me five to ten words that best describe your personality.
Present, Curious, Ambitious, Analytical, Relatable, Reliable, Loyal, Engaging, Confident, Relaxed
What was your favorite part of being at RNCon?
Mingling and having fun with everyone at the costume party, as I feel like people are more comfortable with each other when they don't have to be themselves entirely for a night, or maybe I'm speaking for myself ;)
How did it feel to win the title of Mr. Casanova 2014?

It felt loving and affirming, as I genuinely gave my all during the RNC to both management and the attendees. So to be so well received was a satisfying feeling coming from the talented people I met all week.

If you could trade places with a romance novel hero for a day, what kind of character would you like to play? (e.g. vampire, werewolf, Regency gentleman, Special Ops/Military, etc. - Just let your imagination run wild.:-))

I would 100% opt for Vampire! Heightened senses (hint, hint), insane physical abilities...I would literally be in a state of ecstasy with the excitement and try anything and everything just to take it all in within those short 24 hours.
Though the hero side of me would make sure I allocate a majority of that day to right-ing some wrongs throughout the world. Maybe take out a few key evil people in the world, save some lives along the way, turn a couple willing friends into allies, and finish it off with some mind-blowingly passionate, sensual sex.
What is your idea of the perfect romantic evening?
It depends on whether or not I'm looking to impress a woman or if you're truly asking what MY idea is of the perfect romantic evening hahaha. I had actually answered this question in a recent interview with In D'Tale Magazine with a woman in mind. So humor me and enter into a man's world will you? Hey, it might surprise you ;). Private island in the Maldives, couples massage on the sand under the moonlight to get our senses flowing, followed by stimulating conversation over a plethora of choice imported drinks and the finest varieties of local cuisine to pick and choose from, lots of mischievous flirting that then leads us to the water, some steamy foreplay follows to the point of tease overload, and then we drift our way ever so slightly over to our on-the-water bungalow with a retracting roof, with the inside lined by candles, pheromone inducing scents filling the air, lounge trip-hop music playing in the background, as we then fall onto a cloud of all white Egyptian cotton bedding and just get lost in each other for a few hours of pure bliss. Yeah, I think that would work for me. ;)
You're equally as comfortable behind the camera as in front of it (your photos are stunning BTW). How did you get started in photography?

Wow thank you, you are too kind! I was actually on a business trip in England for a month and decided to buy my first SLR camera–film at the time–with the intention of shooting all the interesting things that caught my eye in this fascinating new place I was in. At the fairly ripe age of 20, I had even more of a sense of wonder and awe to inspire me to really go after each shot. When I got back and saw the photos I'd taken, I could honestly say that I had an eye for it and with enough practice could be a professional one day. Years later, having just left the job that provided the trip to England, my wife saw an opportunity
(as she was going to school for photography) and had a lead for us to shoot some portraits as well as a wedding. After taking a big gulp and hesitantly saying yes, we pulled it off and teamed up to dive in head first, get a business loan, take every class, seminar and read every book we could to refine the craft. The rest was history as over the past 12 years we've built a full time business with a staffed studio who sees upwards of 500 clients per year here in San Diego.
Do you have a passion for photographing any particular subject?
I shoot much, much less these days, but I would say it's a mix of passion and pleasure. Definitely a passion to shoot for humanitarian/charitable causes abroad that I believe in and a pleasure to shoot travel/culture amongst other countries.
In addition to modeling and photography you're also a very talented musician. Was there one specific moment in time when you just knew you had to be a musician?
My imagination ran wild when I first heard Nirvana, Pearl Jam, Lagwagon, and Led Zeppelin...and this part of me wanted to actually play the songs so bad. My Dad is an amazing guitarist so I asked if I could play around with his Fender Strat, and I was fascinated. So when I bought my first guitar at age 15, I was immediately magnetic to it and all things music. I started a band with some high school friends which led to the recording studio, live shows, and a couple other key bands that gave me the opportunity to play some really big shows, record in some amazing studios in Hollywood, and play alongside some really talented musicians that I can also proudly call friends.
For you, what is the most fulfilling part of writing and playing music?

There are a few things I find really fulfilling, one being the amazing feeling of the hair standing on your neck as you stumble across a combination of notes or words that take you somewhere beyond what we know and see. Secondly when you surprise yourself at what you can either play or create that you once thought was impossible. Thirdly the satisfaction of hearing your song on the radio or from someone who was really moved by what you wrote, and that it helped them get through something, or appreciate something they wouldn't have otherwise.

Based on your photos, I can tell you've traveled quite a bit. Do you have a favorite place you've visited?
It's a toss up between the Caribbean and Europe, both those regions are very different from one another but offer some of the most incredible experiences out there IMO. The Caribbean for me is the absolute definition of paradise and ultimate relaxation, while Europe is infinitely fascinating with all it's rich history, architecture, landscape, food and culture. Although I'm grateful to have experienced Malawi, Africa and Haiti as well, due to the wonderful people, it's just an entirely different mindset on those types of trips for me.
How about someplace you haven't visited yet but would like to?
I'm very curious to dive into the Asian culture. I'm definitely planning on visiting Thailand, Japan and China in the near future.
You're a multi-talented guy who's done so many different things in your life. Is there one accomplishment that stands out as having given you the greatest sense of satisfaction?
I would have to say my trip to Haiti back in 2011. I had volunteered with Children of the Nations (COTNI.org) and a small team from my church (The Flood) to document a 10 day trip. It was a mixture of photo and video following their CEO Chris Clark as we toured the devastation still left by the massive earthquake. The goal was to capture the immediate need and create a fund-raiser from the footage to address the desperate situation however we could. Over the course of the 10 days it was a mixture of fear of safety, witnessing overwhelming poverty, and basic shock and awe at the level of devastation over there. I met and interviewed several children who had lost limbs in the quake who I now hear years later have been provided the most advanced prosthetics available thanks to support received over time. The campaign raised over $220,000, way beyond expectations. God is good. That is my greatest sense of satisfaction because you can take the ultimate peace in knowing that there could've been no better way to have spent my life than during those times. No selfish pursuit has ever yielded such a feeling as this. Photos and blog link to Haiti trip.
This question is inspired by The Players Club, a favorite romance series of mine: If you knew you had only one month to live and had virtually unlimited resources, what three things would you want to do?

Since I'd have unlimited resources, I would go on a campaign traveling all over the world to fund and personally meet the people behind some of the greatest causes that could literally change our world for the better if they just had that support. I'd also pay off all my friends and families debts, buy them new homes, cars and whatever true needs they have. I'd then set aside the last week of my life with the ones I love most, a retreat of sorts with tons of quality time to enjoy those last moments together before I go to be with my creator. Throughout these 30 days I would of course be enjoying the most amazing food and drinks during my travels, mixed in with a couple safaris and nature adventures to the wonders of the world.
Since books are my favorite things in the world, I can never end an interview without asking: What is your favorite book and why?
I can't believe I'm saying this in an interview lol. Brace yourself. The Twilight Series. Mind you my wife forced me to read them, and it was before the movies had fully been released hahaha. Remember my vampire answer a few questions back? Well now it all makes sense doesn't it? ;) If you can block the movie out of your mind and just look at the story and characters themselves, it's one of those books that you can almost live through vicariously...so combine becoming an immortal vampire with an incredible passionate lover at your side and werewolves for friends? I'm sold. No shame here. I'm secure in my masculinity hahaha. Just read the damn book guys and check your macho at the door. You'll be surprised.
Thank you for taking the time to do this interview, Weston. It's been a delight having you. Good luck with all your projects. I wish you all the best!:-)
Thank you for listening to me go on and on, whoever you are out there! And thank you, Julianna, for deeming me worthy and interesting enough for this interview. You are so sweet. :) -Weston Bouchér
| | |
| --- | --- |
| Connect with Weston via Social Media | |
Categories: Hump Day Hunks, Interviews
---