May 19, 2017 04:26 PM Posted by juliannadouglas
This month I have a new tote bag from the 2016 Desert Dreams convention to give away. It's a large, roomy, black bag with pink lettering that says, "2016 Desert Dreams" on the side. I've filled it with a selection of swag, a few of which are premium swag items.
In addition to the tote bag, here are some of the things the lucky winner will receive in this swag prize package:
Cosmetic bag, can cozy, luggage tag, corkscrew, screen cleaning cloth, stress squeezie, adhesive lint remover

Pens, notepad, magnet, candies, key chain, and more goodies.

Collectible bookmarks, trading cards, and more, a few of which have been signed by the author.

PLUS A signed print copy of your choice of any one of my books, His Heart's Desire, Heart of the Season or my brand new one, Butterfly Serenade with matching swag.
That's a lot of stuff and it's all going to one lucky winner. Use the Rafflecopter widget below to enter for your chance to win. Good luck!
Note: Apologies to my international readers, but due to the high cost of shipping overseas, this giveaway will be open to US entrants only.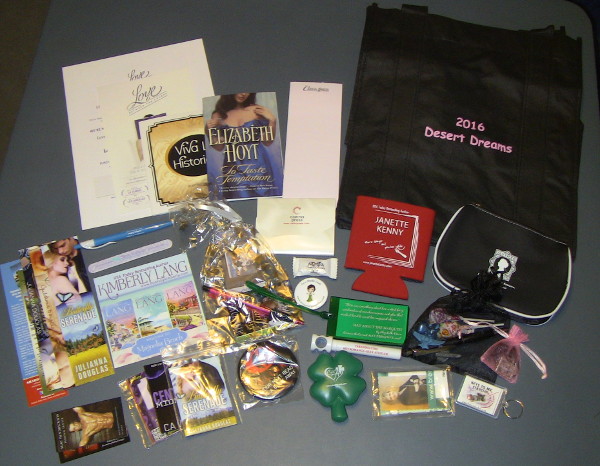 Categories: Giveaways
Tags: Butterfly Serenade, Heart of the Season, His Heart's Desire
---