July 20, 2015 06:04 PM Posted by juliannadouglas
I'm celebrating Christmas in July with my brand new book, Heart of the Season, the second installment in my Loving Hearts series. Attendees at Romance Novel Convention got a sneak peek at the cover last month, and now, as promised, here is it for everyone to see.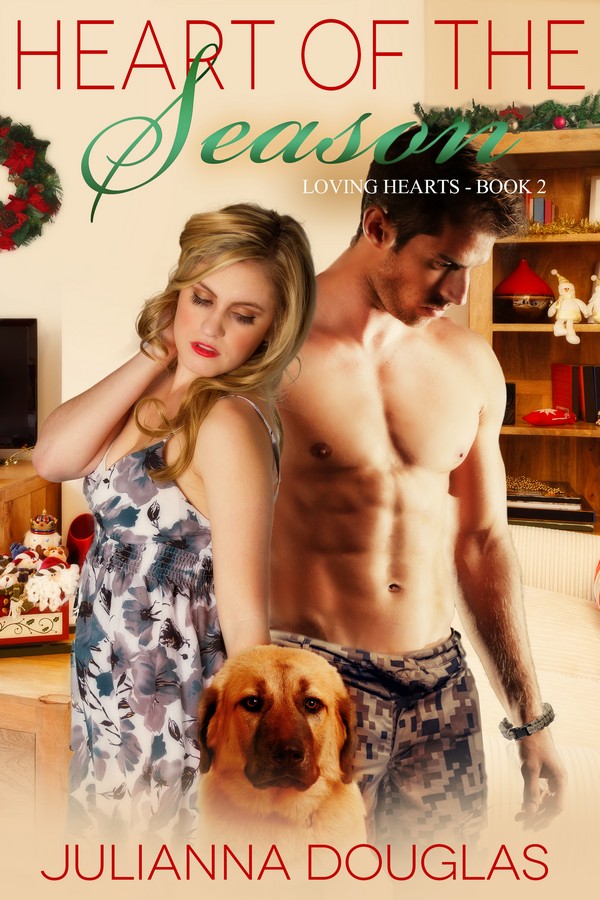 Cover Blurb
With a little help and a holiday miracle, can a determined animal rescue worker find and save a missing dog in time to give a wounded warrior the Christmas he desperately longs for?
Jeannie Montgomery runs an animal shelter in Kabul, where she not only rescues strays, but also helps Western military personnel bring their newfound pets home when their tour of duty is up. Jeannie's heart nearly breaks when she receives an email from a stateside marine, pleading for her help with finding his dog. As she begins communicating with him via Skype, an instant attraction sparks between them, strengthening Jeannie's resolve to do whatever it takes to fulfill his Christmas wish.
Zachary West lost his leg in an IED blast in Afghanistan. Since returning to Phoenix, he's been living in self-imposed isolation, hiding his scars from the world, but he hasn't forgotten the furry friend whose warning saved his life. More than anything, he wants to have Akilah home with him in time for Christmas. Jeannie seems to be the answer to his prayers. Her optimism and tenacity give Zach hope for Akilah, while her loving kindness helps heal his battered heart. He wants to believe that she's the one he's been waiting for all his life, but how can a gorgeous woman like her ever love a broken, scarred warrior like him?
Heart of the Season is already up for pre-order on Smashwords, which means it should be available at their partner sites, Barnes & Noble, iTunes, and Kobo within the next few days too. I'm still working on formatting the print and Kindle editions, but it will be available on Amazon very soon as well. The official release date is 7/27/15.
Categories: News
Tags: Heart of the Season
---