June 17, 2017 02:59 PM Posted by juliannadouglas
This month for my second giveaway, I'm offering a set of three beautiful, high-quality greeting cards from Leanin' Tree that tie in with the themes of my books. Each one sports some lovely original artwork by a very talented artist, whose story can be found on the back of the card. There's one with silly cats, one with smiling dogs, and one with gorgeous butterflies. Where other cards are typically plain white inside, these cards have full-color interiors. The cat and dog cards contain a brief all-occasion verse, while the butterfly card is blank, and each one comes with a matching envelope. The icing on the cake is that these cards are eco-friendly, made from recycled paper and soy-based ink. I'll also include an eBook copy of the winner's choice of any one of my books, His Heart's Desire, Heart of the Season or my newest one, Butterfly Serenade.
Use the Rafflecopter widget below to enter for your chance to win. This giveaway is open to my newsletter subscribers only, but if you're not signed up yet, no worries. Just go to my newsletter sign-up page, follow the simple steps to start receiving my monthly emails, then come back here to enter. International entries OK. Good luck!
P. S. Don't worry. The cat card is just as lovely as the others. My camera's flash reflected off its glossy surface, causing the white spot in the middle of the image.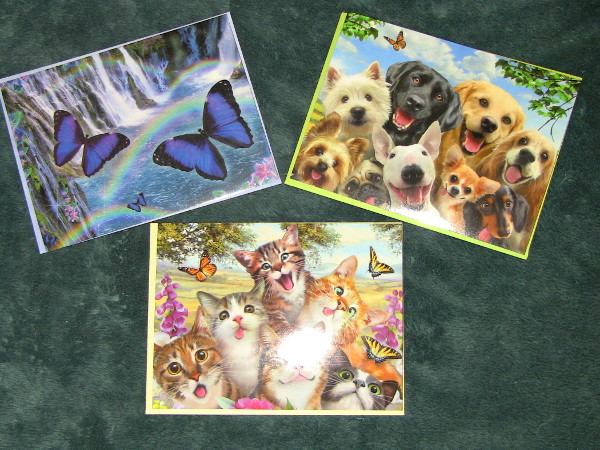 Categories: Giveaways
Tags: Butterfly Serenade, Heart of the Season, His Heart's Desire
---