September 15, 2017 10:51 PM Posted by juliannadouglas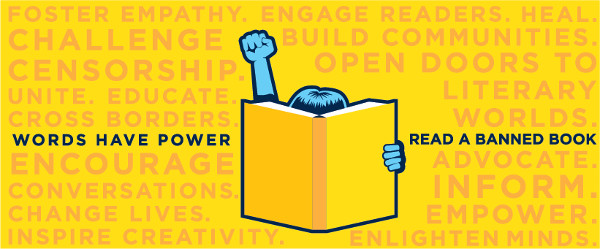 Are you a rebel reader? I know I certainly am. I read whatever I choose to read and don't really care much what others think of my reading choices. Not every book is going to be for every reader. We all have different tastes, interests, and preferences when it comes to reading, so while I will give you my opinions of the books I read via my reviews, I would never presume to tell others what they can – or can't – read. Yet that's exactly what happens when a person decides to challenge a book. It's a form of censorship that's stating that not only is this book not right for that individual but that they believe it isn't right for anyone. And that's just wrong! Every individual should have the opportunity to choose for themselves what books are right for them to read, or in the case of minors, each individual parent should have the right to choose what's best for their children to read. But it's my fervent belief that no one should have the right to choose for anyone else or another person's kids. That's why, each year, I support the American Library Association's annual Banned Books Week, which seeks to raise awareness of the issues surrounding the challenging and in some cases, outright banning, of books.
Books can enrich our lives in so many different ways. I've been a lifelong reader and over the years I've been alive and reading, they've opened windows to worlds I never could have dreamed of and have expanded my mind exponentially. They can challenge us to see our world differently or to change our minds about long-held beliefs. They can help foster empathy within us for our fellow human beings, especially those who are different from us. They can educate us about people, places, and things we might not know much about. They can encourage us when we're facing difficult times in our lives. They can take us to places we might only be able to visit in our mind's eye or to real places we might not be able to visit in our lifetimes. They can inspire creativity within ourselves, perhaps even spurring us to write books of our own like I have. They can bring people together over their shared love of a particular book and spur conversations on those books, or even better, they can inspire conversations on topics that are important to everyone. Books can inform, empower, enlighten, and yes, sometimes, they can even change lives.
| | |
| --- | --- |
| | Words are a powerful tool that can do many things for so many people. While any book can have one or more of the powers I've mentioned in the examples above, oftentimes it's the banned and challenged books that wield the most power. And I think it's sometimes out of a fear of that power and the ways in which they might change someone's mind, heart, or even their life that people seek to ban or challenge certain books. So during the week of September 24-30, I challenge you all to set fears aside and stand with me against censorship and for the rights of everyone to read. Pick up a banned book and see for yourself the power of words. |
This post is going up early so I can include it in my monthly email newsletter, but check my Facebook and other social media feeds during Banned Books Week for more insights.
Now as part of my celebration I'm going to highlight and give away one of my favorite banned/challenged books, the Hunger Games series. These books were among the top five banned/challenged books of the years 2010, 2011, and 2013. There are many and varied reasons why these books have been challenged or banned, so here's where I'll offer my opinions on a few of these reasons.
| | |
| --- | --- |
| | 1. Violence – This is probably the number one, most common reason, and unlike some of the others, I can say that it's a valid one. Yes, the books do contain violence. After all, the kids take part in gladiator-style games in which they must fight to the death and the victor is the one left standing in the end. Each of the books become a little more violent as the stories progress, mainly because we go from The Hunger Games, to a nationwide rebellion being sparked, to all out war throughout Panem. |
Characters that readers care about die and by the final book, the body count is fairly high. However, despite all the killing, I never felt that the violence was gratuitous or inappropriate to the story being told. If anything, it serves a greater purpose to underscore the unfairness of a governmental system that needs to be changed, which makes for a great discussion starter. When characters die, for the most part, their deaths are handled in a relatively matter-of-fact way, with the death occurring and then the other characters moving on fairly quickly. Generally speaking, the author doesn't tend to linger in the moment or describe the scenes in gory, bloody details. In fact, I believe the author held back somewhat on this in deference to her target audience. Instead, she tries to elicit an emotional response from the reader through the use of suspense and an overall sense of peril throughout, and she relies more on the psychological fall-out surrounding deaths and other events to get her point across. The movie versions of the books received PG-13 ratings, and the books certainly aren't any worse. My daughter was only thirteen when she read these books and had no trouble with them, so the way I see it, it's all a matter of parents knowing their child's sensitivity level before allowing them to read it.
2. Anti-Family – I can maybe see where the complainers are coming from on this one, because Katniss and Peeta have pretty dysfunctional families, and the families of Panem, in general, are being torn apart by the Games. But overall, I disagree. While Katniss has a troubled relationship with her mother, it's understandable under the circumstances, and she's absolutely devoted to her sister. And although she shouldn't have had to, she's stepped up to do whatever is necessary to take care of her family. Her friend, Gale, does the same. It can also be argued that the Capitol is largely responsible for most of this, and so the unfair governmental system is actually the anti-family entity, while the main characters are very much pro-family.
3. Anti-Ethnic – Not sure where this one is coming from. Rue, Thresh, and the residents of District 11 are dark-skinned, while Katniss and her friend, Gale, are described as olive-skinned. There are also people of different ethnicities in the Capitol as well, so I see no basis for this complaint.
4. Sexually Explicit – To say that these book are "sexually explicit" is pretty disingenuous. To begin with, the relationship parts are definitely not the main focus of the books. While Katniss and Peeta share some tender kisses throughout, and a couple of times, there are mild references to the feelings those kisses stir in Katniss' body, this is hardly "sexually explicit." There are a couple of scenes where a character undresses another character who is sick or injured but only in the context of helping. A character in the second book strips nude in a public area, but it's intended to intimidate not titillate. In a couple of scenes, Katniss and Peeta share a sleeping bag or bed, but it's only for warmth and/or comfort, and there's nothing sexual about it. In the final book, a character mentions being sold for sex, but it's worded very delicately, and there is also one extremely veiled reference to love-making that might even go over the heads of less sophisticated readers. This is all the content I could find that might possibly be cited to back up this complaint, so judge for yourself. But IMHO, it doesn't even come close to being "sexually explicit." Pick up almost any mainstream romance novel, and you'll get far more sensuality than this.
5. Offensive Language – I can only guess that this complaint is being lodged by people who haven't even read the books. I found only a handful of uses of the word hell, and except for one, they weren't really being used as what I consider a profanity. Other than that, I have no idea what offensive language was supposedly being used.
6. Occult/Satanic – This one boggles my mind. There is no magical, mystical, occult, or Satanic content anywhere in these books. They aren't even fantasy; they're dystopian science-fiction. Dystopian because the stories represent a fictional place where people are being treated unfairly and fear for their lives, and science-fiction because the stories contain some plausible factor of potential scientific reality in them. The Capitol has access to advanced technologies that we don't currently have, but this is a fictional future world, not Satanism.
7. Religious Viewpoint – Again, this one is rather mind-boggling. There is no religious content in the books at all. No mentions of God or any particular faith traditions, so unless the complaint is being lodged by someone who's offended that the books don't include God or their chosen faith tradition (which is pretty silly if you ask me), then I don't see anything to get up in arms about here.
My personal take on it is that The Hunger Games is appropriate for middle grades and up, while Catching Fire and Mockingjay are fine for a young adult audience of perhaps 14 and up. If younger kids want to read them, their parents should either read the books themselves or educate themselves regarding the content via factual sources, as well as know their child's sensitivity level. This will help parents in determining whether the child can handle the material before allowing them to read the books.
Overall, I'd say that the positive messages outweigh any potentially controversial content. There is a lot of food for thought in these books regarding what we value as a society, and what it means when a society has devolved to the point that they view killing as sport and entertainment. There are also questions raised about what should be done when a governmental regime sanctions such brutality, as well as the importance of thinking for oneself. All these topics would make for great conversation starters for parents and educators to use in guiding their children and students. This is also a story about standing up for what's right in the face of pure evil and trying to create a better world for everyone, no matter the cost. Within these pages, there are lessons to be learned about friendship, loyalty, courage, family, love, and compassion for others. Most of all, it's a story about finding hope in the most hopeless of circumstances, that even when it feels like you've lost everything, hope still springs anew and can blossom out of the rubble of destruction. With all this in mind, I personally think it would be a travesty to take these books out of the hands of young people.
And there you have it, my two cents on what makes The Hunger Games Trilogy a great group of stories that have all found their way onto my keeper shelf, as well as my counter-arguments against the allegations made by those who wish to censor, challenge, and/or ban these books. I would encourage everyone, teens and up, to give these powerful, thought-provoking stories a read if you haven't already. And to help you achieve that, I'm giving away the entire boxed set of The Hunger Games Trilogy. Keep reading to learn how you can win it for your own library.
Cover Blurb-

Set in a dark vision of the near future, a terrifying reality TV show is taking place. Twelve boys and twelve girls are forced to appear in a live event called The Hunger Games. There is only one rule: kill or be killed. When sixteen-year-old Katniss Everdeen steps forward to take her younger sister's place in the games, she sees it as a death sentence. But Katniss has been close to death before. For her, survival is second nature.
Read my complete review of The Hunger Games Trilogy.
Giveaway
If you would like to win a copy of The Hunger Games Box Set to see how wonderful it is for yourself, just enter the Rafflecopter giveaway below. One lucky winner will receive their choice of an eBook or print copy of the book. If the winner chooses an eBook, I will gift it to them via the eBook retailer of their choice (Amazon or B & N). If the winner chooses a print copy, I will have it mailed directly to them via Amazon. Good luck!
International Entrants: You are welcome to enter my contest, but please note that not all eBooks are available in all countries due to copyright restrictions. If this is the case, Amazon does offer an option to trade for a gift card (I'm not sure about B & N). If you choose print, I can mail it to you via the Amazon website that services your country, pending availability and cost. Otherwise I will mail it to you via Amazon U.S.'s standard international shipping, but it may take up to six weeks to arrive, and I may not have the capability of tracking the package.
---