September 18, 2022 05:24 PM Posted by juliannadouglas
During the month of August, I only read one full-length novel and two short stories. I'm a slow reader, so when I pick up a thick, doorstop book like the one I'm featuring, it takes me the better part of a month to get through it. That's not because it wasn't good, because it definitely was. It's the latest entry in my all-time favorite book series and one that's wildly popular. When Jamie and Claire sent their daughter, Brianna, her husband, Roger, and their two children back through the stones to the future, they'd resigned themselves to never seeing them again. But they unexpectedly returned, leaving Jamie and Claire rejoicing over having their family back together again. However, despite making their home in the back country of North Carolina, the Revolutionary War has been creeping ever closer to Fraser's Ridge. The loyalties of Jamie's tenants are split between those who are faithful to the British crown and those who pledge fidelity to Jamie and the rebel cause. As things gradually heat up to the boiling point, Jamie makes the decision to gather together a militia of those men he can trust to protect the ridge and its interests. He also knows they'll need to fight in an upcoming battle that will take place close to the ridge, and the outcome of that battle may leave his life hanging in the balance.
Categories: Book of the Month, Giveaways
Tags: Diana Gabaldon
---
September 18, 2022 03:31 PM Posted by juliannadouglas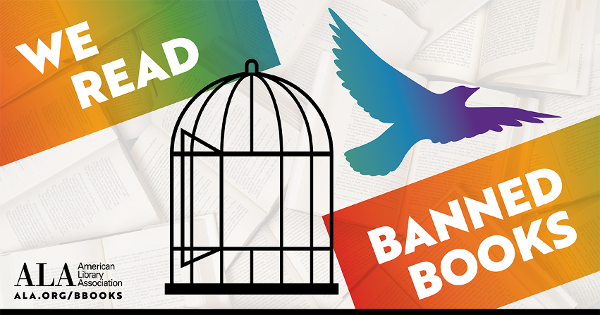 Every year at this time, I join with the American Library Association (ALA) in celebrating Banned Books Week. This year, the actual celebration takes place September 18-24, so this post will be right on time for that. I come to the celebration this year, both angered and with a heavy heart, because 2021 (the most recent year for which we have data) has been the worst year for book bans/challenges on record since the ALA started tracking this data. During 2021, book bans/challenges increased exponentially over the previous year. In 2020, the ALA Office for Intellectual Freedom tracked 156 challenges to library, school, and university materials and services, during which 273 books were targeted. In 2021, those number alarmingly jumped to 729 challenges with 1597 books being targeted. That's a 367% increase in challenges and a 485% increase in books being targeted, which is staggering. And that's just the ones that are reported. In fact, surveys indicate that 82%-97% of book challenges remain unreported and receive no media attention. All this means that there could be thousands more books being challenged or banned that we don't even know about, which saddens, angers, and appalls a book-lover like myself.
---