March 20, 2022 05:12 PM Posted by juliannadouglas
This month for my second giveaway, I'm offering a cat's eye necklace. It features a red stone pendant clasped between silver claws dangling from a black cord. In addition, the winner will receive an eBook copy of any one of my Loving Hearts books, winner's choice.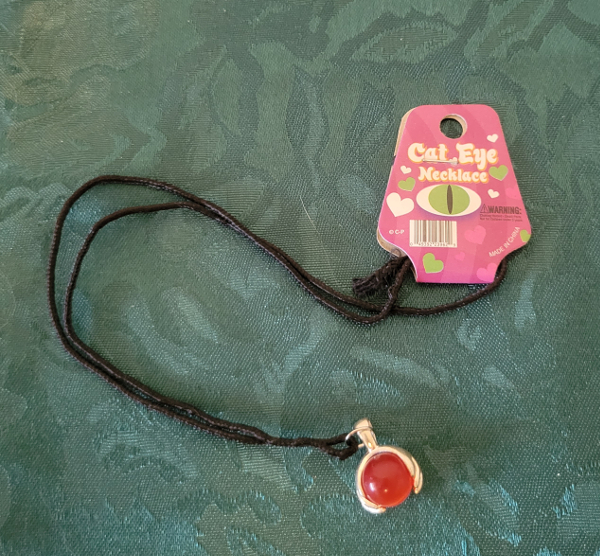 Categories: Giveaways
Tags: Heart of the Season, Hearts Ignite in the Desert, His Heart's Desire, The Key to Her Heart
---
March 20, 2022 05:04 PM Posted by juliannadouglas
During February, I read five full-length books and two short stories. There were a couple of so-so reads among them, but overall, most of them were really good, making my decision as to which book would be named my Book of the Month a little harder this time. Ultimately the one that came out on top is a paranormal romance by a favorite author that's part of a favorite series of mine. This one follows SnowDancer wolves Indigo and Drew. Indigo is a dominant female and a pack lieutenant, while Drew is the pack's tracker. Drew has been crazy about Indigo for a while, but she's been trying to keep their relationship friends-only. She worries that getting involved with a male who is both younger and less dominant could lead to disaster. But tired of waiting for her to come around, Drew pulls out all the stops to prove to Indigo that she's the only wolf for him. Meanwhile, the threat from Pure Psy, the Psy faction that's determined to maintain Silence no matter the cost, is rising, and Indigo and Drew discover evidence of a Psy incursion onto SnowDancer land. With the help of their alpha, Hawke, and the rest of the pack, they must figure out what the Psy's new game is and stop it before serious damage is done, but a climactic battle with the Psy could put Indigo and Drew's relationship in jeopardy before she's even had a chance to decide whether he's her perfect mate after all.
Categories: Book of the Month, Giveaways
Tags: Nalini Singh
---